Pharmacies in Greece are identified by a "green cross" and are open during normal business hours. The Greek word for pharmacy is "φαρμακείο" (farmakeío). Pharmacies in Greece are able to provide first aid for simple matters and give competent advice.
If you need medication at night or on weekends, you can find out which pharmacy is open by looking at the schedule that is posted on every pharmacy door. The list is written in Greek, so you may want to enlist the help of a friendly local who speaks your language. Most pharmacy staff speak English and medicines are of the same quality as in other Western countries.
Alternatively, use this link to find pharmacies that are open nights and weekends: https://www.vrisko.gr/en/pharmacy-duties
Medicines are available from chemists (pharmacies), which are divided into two main categories depending on whether or not a prescription is required. If you need a prescription medication, public or private doctors will assess your situation and provide you with a prescription to purchase the appropriate medication at the pharmacy.
In addition, you should be aware that if you have a health insurance card issued by the relevant national insurance fund, you will be able to pay a reduced price for prescription medication.
Table of Contents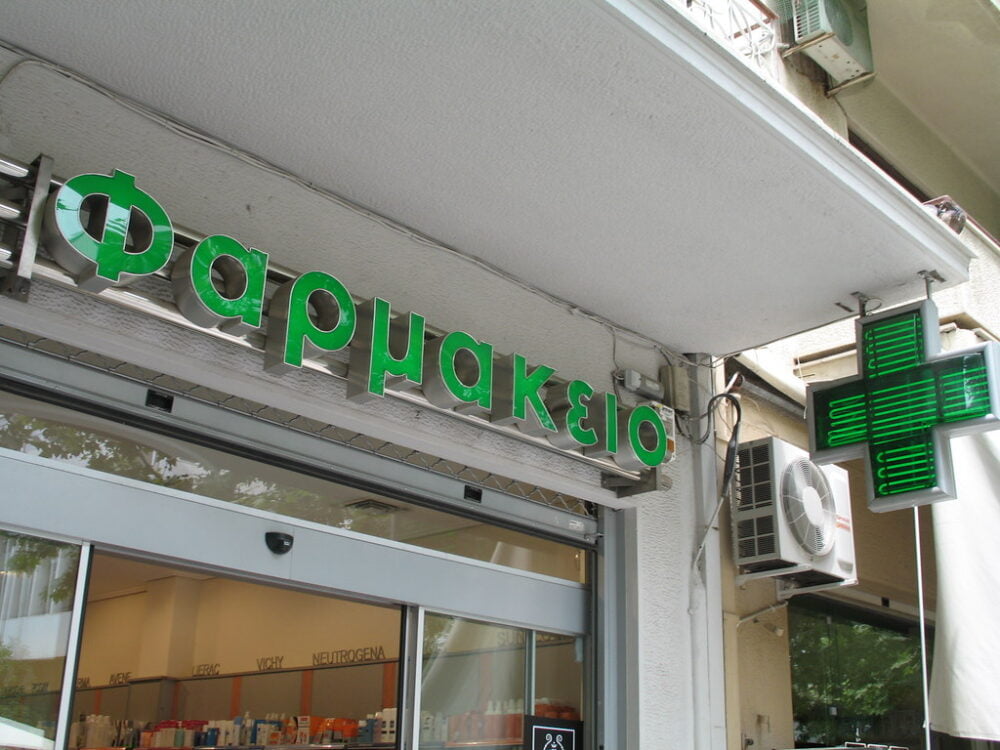 All you need to know about pharmacies in Greece
Planning a trip to Greece? If so, it's important to know what to expect when it comes to pharmacies opening hours, prescription drug regulations, services offered, and access to over-the-counter medications.
Pharmacy hours in Greece
You should be aware of the operating hours of pharmacies in Greece. Pharmacies in Greece typically have different operating hours compared to those in other countries.
Most pharmacies are open Monday through Friday, starting at 8:30 a.m. and closing at 2:00 p.m. They then reopen in the afternoon, from 5:30 pm to 9 pm. There are also pharmacies with extended hours from 8:30 am to 9 pm.
On Saturdays, pharmacies are only open in the morning, from 8:30 am to 2:00 pm.
It's important to note that it can be more difficult to find an open pharmacy on Sundays and national holidays. However, there's always at least one pharmacy in each area that operates as an "on-duty" pharmacy, providing services during off-hours.
It's a good idea to check the hours of the nearest pharmacy before visiting.
Bringing medicines and health care products into Greece
If you're planning to visit Greece and need to bring medicine or other health products, here's what you need to know. Only products for personal use are allowed. Make sure you have just enough to last your stay.
For prescription medication, including controlled substances, carry a letter from your doctor stating the amount needed, along with a copy of the prescription. All products should be in their original containers, labeled with the full prescription and your name as it appears on your passport (this is not required for over-the-counter products).
If you are using medical cannabis, it should be approved as a medicine in your home country. Have your personal license to use it on hand, translated into English or Greek.
If your treatment involves methadone or buprenorphine, contact the dispensing agency at [email protected] for assistance.
For further information or assistance during your stay in Greece, contact the Greek National Organization for Medicines at +30 213 2040 285 / 225/000 or [email protected] / [email protected].
Prescription Drug Regulations in Greece
When it comes to obtaining prescription medication in Greece, there are certain rules and regulations that you need to be aware of.
First, you'll need a valid prescription from a licensed Greek physician in order to purchase prescription medication. It's important to note that prescriptions from doctors outside of Greece may not be accepted.
In addition, you should know that some medications may be restricted and require special permission from the National Organization for Medicines.
It's also important to remember that Greek pharmacies are not allowed to dispense certain medications without a prescription, such as antibiotics and certain painkillers.
Therefore, it's important to consult with a healthcare professional and ensure that you have the necessary documentation before purchasing prescription medication in Greece.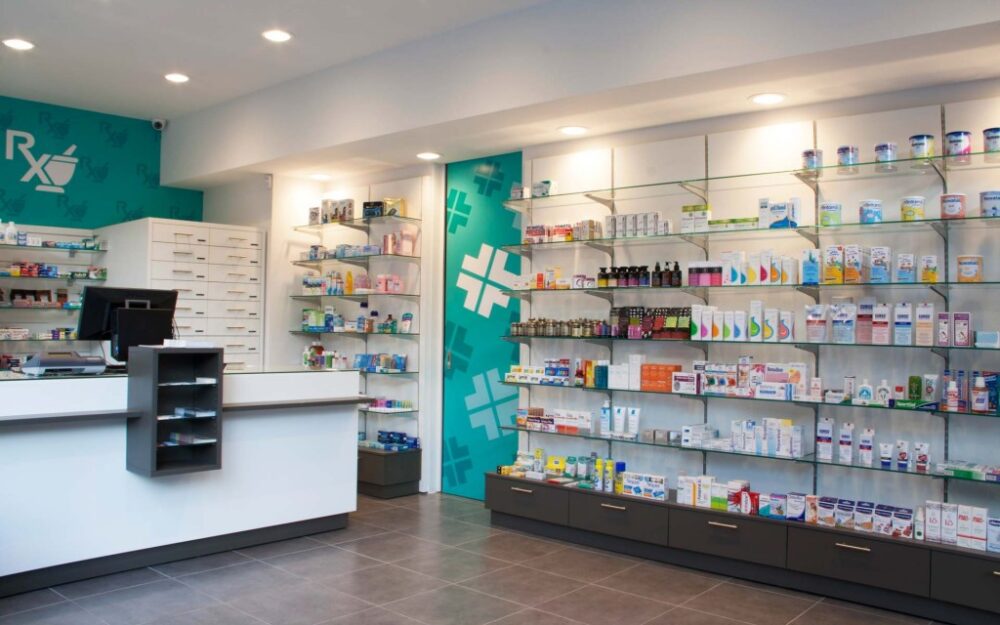 Services offered by pharmacies in Greece
Local pharmacies offer a wide range of services to assist you with your healthcare needs. In addition to dispensing prescription medications, they also offer over-the-counter medications, vitamins and supplements.
They are well-stocked and you can find almost any medication you need. In addition, Greek pharmacists can provide medication counseling to help you understand the proper dosage and use of your medications. They can also answer any questions you may have about possible side effects or drug interactions.
If you forget your prescription, Greek pharmacies can contact your doctor and get it filled for you. If you need a specific medication that isn't available, the pharmacy can order it for you and have it delivered to your home or to the pharmacy for pickup.
Pharmacies also offer various health services such as blood pressure monitoring, diabetes testing and vaccinations. With their extensive services, pharmacies in Greece play a vital role in the healthcare system, ensuring that you have access to the medicines and information you need to stay healthy.
Access to over-the-counter medicines in Greece
To easily obtain over-the-counter medications in Greece, simply visit a pharmacy and ask for assistance. Pharmacies in Greece are easily accessible and can be found in most neighborhoods and towns.
When you enter a pharmacy, you'll usually find a wide range of over-the-counter medications displayed on shelves or behind the counter. If you're not sure which medication to choose, don't hesitate to ask the pharmacist for advice. They're trained professionals who can provide you with the necessary information and recommendations based on your symptoms or needs.
In Greece, over-the-counter medications can be purchased without a prescription, making them convenient for minor ailments or common health problems. However, it's important to follow the recommended dosage and instructions provided by the pharmacist to ensure your safety and well-being.
Frequently Asked Questions
Are pharmacies open on Sundays in Greece?
Pharmacies are closed on Sundays in Greece. However, there are certain pharmacies on duty that you can find by region for any given day and time, including Sundays. You can use local directories or websites such as vrisko.gr or xo.gr to find open pharmacies in a specific area in Greece.
Is it easy to find a pharmacy in Greece?
Greece has the highest concentration of pharmacists in Europe, with 97 pharmacists per 100,000 inhabitants. This is in stark contrast to France with 35, Germany with 26, the UK with 21 and Denmark with 5.7 pharmacists for the same population. This means that Greeks have access to more than twice as many pharmacists as the French and an astonishing 17 times more than the Danes.
Can I buy over-the-counter medications?
In Greece, many medicines, including pain relievers, antacids, cough medicines and skin creams, are readily available over the counter. No prescription is required for these common over-the-counter medications.
Can pharmacies in Greece provide emergency medication outside of their normal opening hours?
Pharmacies can provide emergency medication outside of their normal opening hours. They're equipped with a system that allows you to locate the nearest on-call pharmacy in case of urgent medical needs.
Are there any restrictions on the amount of prescription medication that can be obtained in Greece?
There are no restrictions on the amount of prescription medication you can obtain from a pharmacy in Greece. You can get the necessary amount prescribed by your doctor without any restrictions.
Are there any special requirements or procedures for foreigners to obtain prescription medication in Greece?
In order to obtain prescription medication in Greece, foreigners must follow specific requirements and procedures. Pharmacies may have certain restrictions on the amount of medication you can obtain, so be sure to check with them.
Do pharmacies in Greece offer special services for the elderly or disabled?
Yes, they offer special services for the elderly and disabled. They offer medication management assistance and home delivery services to ensure easier access to necessary prescription medications.
These services are designed to meet the specific needs of elderly and disabled individuals who may find it difficult to visit a physical pharmacy and manage their medications effectively. Pharmacists in Greece are trained to provide personalized support and guidance to these individuals, helping them understand their medications, proper dosage and potential side effects.
In addition to medication management, some pharmacies in Greece also offer home delivery services. This is particularly beneficial for the elderly and disabled, who may have difficulty leaving their homes or traveling to a pharmacy. With home delivery, they can receive their prescription medications directly at their doorstep, eliminating the need to travel to the pharmacy.
What are social pharmacies in Greece?
Social pharmacies provide healthcare services to vulnerable populations who are uninsured or partially insured.
---
Related pages: