Launched in January 2000, the Athens Metro represents a significant step forward in public transportation in Greece's bustling capital. As a new, modern, fast, comfortable, reliable and safe mode of transportation, the Athens Metro has revolutionized the way residents and tourists navigate the city.
Metro Network and Operations
The Athens Metro consists of three lines, each identified by a color and a number:
Green Line (Line 1): This is the oldest line, often called Electrikos (ISAP). It connects the suburb of Kifisia in northern Athens with the port of Piraeus. It has stations at major points in the city such as Omonia and Monastiraki. It is an electric railway that runs at ground level. Its speed is slower compared to the underground metro lines, but it offers views of the cityscape during the ride.
Red Line (Line 2): This is an underground metro line that runs from West Athens (Anthoupoli) to South Athens (Helliniko). It has 18 stations, including Larissa Station, which is connected to the Central Railway Station for trains and the Suburban Railway. Some of the most popular stations in Athens located in the city center are part of the Red Line route.
Blue Line (Line 3): This is an underground metro line that runs from Piraeus, through the center of Athens and several northern suburbs, and reaches Athens International Airport. It has a total of 27 stations, most of them in central points of Athens, including Monastiraki, Syntagma, Kerameikos and Evagelismos.
In addition to the existing lines, a fourth line is planned for the Athens Metro, which will extend over a length of 38.2 km and add thirty-five new stations to the Athens Metro system. The new line is expected to be operational by 2026.
The Athens Metro is actively connected with other means of public transportation, such as buses, trolleys, the Athens Tram and the Athens Suburban Railway.
The metro system is hailed for its modernity, and many of its stations feature works of art, exhibitions, and displays of archaeological remains found during its construction.
Efficient Transit Times and Accessibility
The Athens Metro prides itself on its punctuality and frequency. Trains run as frequently as every 3 minutes during rush hour and every 5 to 10 minutes during off-peak hours. This efficiency dramatically reduces travel time, making journeys like Ethniki Amyna to Syntagma only 10 minutes, compared to 35 minutes by car.
Athens Metro Ticketing and Fares
Using a blend of modern technology and convenience, tickets for the Athens Metro can be purchased through automatic ticket machines available at all stations. Passengers are required to validate their tickets at special validation machines before boarding, and fares are very affordable.
The Artistic Essence of the Athens Metro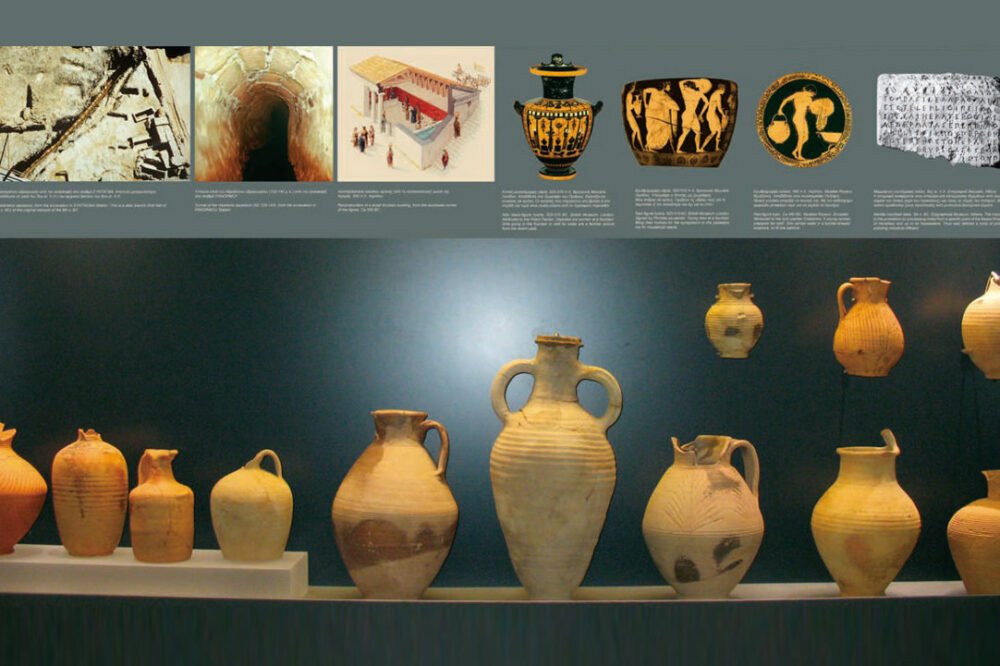 The fusion of archaeology and art
The Athens Metro isn't just about transportation; it's a cultural journey. Many stations house a carefully curated selection of archaeological finds, offering a glimpse into the rich historical tapestry of Athens. In addition, works of art by renowned Greek artists adorn the stations, enhancing the aesthetic and cultural experience for commuters.
The Role of the Art Program Committee
The Art Program Committee has played a key role in transforming the stations into cultural hubs. They carefully select artists and materials, ensuring that each piece resonates with the station's character and the city's heritage.
Frequently Asked Questions
Q: What are the operating hours of the Athens Metro?
A: The Athens Metro operates approximately from 5:30 a.m. to 12:30 a.m., with extended hours on weekends.
Q: Are there facilities for people with special needs??
A: Yes, the Athens Metro is equipped with facilities designed to assist persons with special needs, ensuring a comfortable and accessible journey for all.
Q: Will I find art and archaeological exhibits in the stations??
A: Absolutely. Many of the stations of the Athens Metro double as cultural showcases, with unique archaeological finds and works of art by Greek artists.
Website: Elliniko Metro SA