The Beauty of Poros Island: Sightseeing and Attractions
Poros Island, situated in the stunning Saronic Gulf near Athens, offers a wealth of experiences for travelers seeking beauty, history, and adventure. With its two islands, Sferia and Kalavria, connected by a charming bridge, Poros Island is a treasure trove of natural wonders and cultural attractions.
The town of Poros, nestled on the hillside, exudes a unique charm with its neoclassical buildings, narrow alleyways, and breathtaking views of the harbor and Lemon tree forest from the iconic clock tower. Let's embark on a journey to explore the top attractions, discover popular activities, bask in the beauty of the island's beaches, indulge in local cuisine, and find out how to make the most of your visit to this enchanting Greek paradise.
Table of Contents
Overview of Poros Island
Poros Island, often referred to as the "Gem of the Saronic Gulf," is a picturesque Greek island that offers a tranquil escape from the bustling cities. With its idyllic landscapes, azure waters, and charming town, Poros Island is an irresistible destination for those seeking a blend of natural beauty and authentic Greek culture.
The island consists of two main parts: Sferia, the larger and more developed part where the town is located, and Kalavria, the greener and more secluded part. Connected by a small bridge, these two parts of Poros Island offer visitors a diverse range of experiences and attractions.
The town of Poros, situated on the hillside overlooking the harbor, is a sight to behold. Its neoclassical buildings, painted in vibrant colors, create a picturesque backdrop against the deep blue waters of the Saronic Gulf. As you wander through the narrow alleyways, you'll stumble upon quaint taverns, charming cafes, and local shops, where you can immerse yourself in the island's warm hospitality.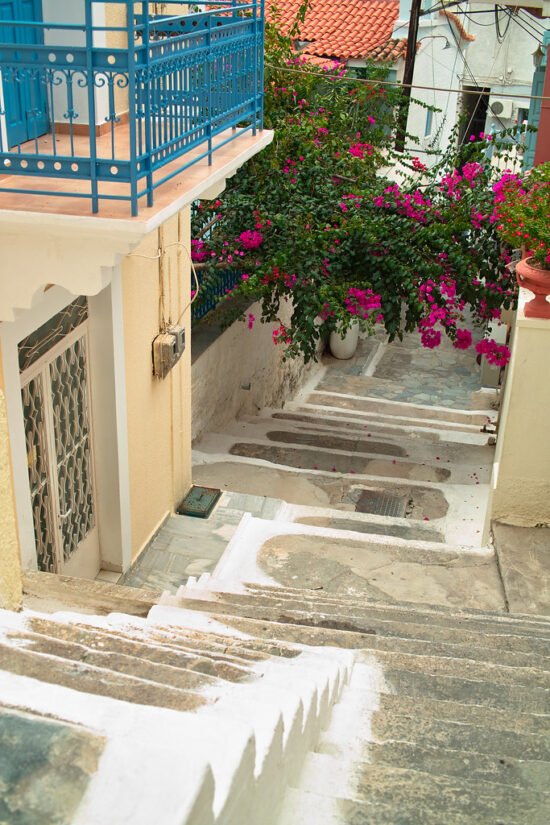 The crowning jewel of Poros town is the clock tower, which stands proudly atop one of the hills. From its vantage point, you can enjoy a panoramic view of the harbor, the Lemon tree forest on the adjacent mainland, and the surrounding islands. The clock tower offers a unique perspective on the island's beauty, allowing you to see Poros from a different angle. Visiting the clock tower of Poros, whether during the day or at sunset, offers opportunities to capture stunning photographs and create lasting memories, with views that are sure to leave a lasting impression.
Top Attractions and Landmarks
Poros Island is home to a myriad of attractions and landmarks that showcase its rich history and natural beauty. Whether you're a history enthusiast, a nature lover, or simply seeking a serene escape, Poros Island has something to offer.
The Monastery of Zoodochos Pighi
One of the must-visit historical sights on the island is the Monastery of Zoodochos Pighi. Surrounded by lush greenery, this religious site offers a tranquil retreat for visitors seeking a moment of serenity. The monastery's beautiful architecture and peaceful ambiance make it a perfect place to reflect and recharge.
The Archaeological Museum of Poros
Poros Island also boasts the Archaeological Museum, located on Koryzi Square. The museum houses a collection of artifacts from ancient times, providing a fascinating glimpse into the island's rich history. From intricately crafted pottery to ancient statues, the museum's exhibits shed light on the island's past and offer a deeper understanding of its cultural heritage.
Constructed in 1967-68 on the site of Koryzis' old mansion, a generous donation from his descendants, the museum beckons visitors to explore Greek history and culture.
Museum Layout
The archaeological museum is divided into two sections. The ground floor hosts a collection of relics from the sanctuary of Poseidon and excavation finds from Hermione and Trizina. Highlights include a plaster cast of the Trizinian inscribed column, 4th-century BC statuettes and tombstones, and architectural artifacts spanning the Archaic to Early Christian periods.
A marble foot from a colossal Roman statue marks the beginning of the Poros Archaeological Collection. Presented in its original display case with a handwritten sign by founder Christos Fourniadis, it offers a glimpse into the collection's origins.
The first floor houses an extensive assortment of ceramic archaeological finds, tracing human activity in Trizinia and Ermioni from prehistoric to Byzantine times. Noteworthy items include grave goods from the Mycenaean vaulted tombs in Magoula at Galata, with a standout piece being a bronze sword adorned with silver-plated nails, attesting to the affluence and authority of the era's local rulers.
The Temple of Poseidon at Palatia
For those interested in ancient ruins, a visit to Palatia is a must. Here, you can explore the remains of the temple of Poseidon, a testament to the island's ancient Greek roots. Walking among the ruins, you can envision the grandeur of the temple and imagine the rituals that took place in this sacred space.
Agios Georgios Church (Church of Saint George)
Another notable attraction on Poros Island is Agios Georgios Church, known for its beautiful murals painted by K. Parthenis. The church's interior is adorned with vibrant frescoes that depict scenes from Greek mythology and biblical stories. A visit to Agios Georgios Church is not only a visual delight but also an opportunity to appreciate the island's artistic heritage.
Hatzopoulios Public Library
To delve deeper into the island's culture, make sure to visit the Hatzopoulios Public Library. The library houses a permanent exhibition on shells and the sea, offering insights into Poros Island's rich maritime history. As you explore the exhibition, you'll discover the diverse marine ecosystem that surrounds the island and gain a greater appreciation for the importance of preserving its natural beauty.
Popular Activities and Things to Do in Poros
Poros Island offers a wide range of activities and experiences to suit every traveler's interests. Whether you're seeking relaxation, outdoor adventures, or culinary delights, there's something for everyone on this enchanting island.
Best Beaches and Water Activities
Swimming, snorkeling, and diving in Poros
Water sports enthusiasts will be in their element on Poros Island.With its crystal-clear blue-green waters, the island is a paradise for swimming, snorkeling, and diving. Love Bay and Askeli Beach are two of the most popular beach destinations on the island, where visitors can soak up the sun, feel the soft sand between their toes, and take refreshing dips in the azure waters. These beaches offer a tranquil escape from the hustle and bustle of everyday life, allowing you to unwind and recharge amidst breathtaking natural surroundings.
Poros Island is renowned for its stunning beaches, where visitors can bask in the sun and enjoy the crystal-clear waters of the Saronic Gulf. The island offers a variety of beach options, each with its own unique charm and allure.
Kanali Beach: just a breath away from the center of Poros lies the picturesque Kanali Beach. This family-friendly beach, boasting a gentle sandy seabed and stunning views of the turquoise Aegean Sea, offers both organized and free beach areas, complete with a beach bar and showers. Nearby, visitors can enjoy local cuisine at quaint tavernas and cafés, making Canali Beach an ideal spot for both relaxation and recreation.
Love Bay, with its calm and inviting waters, is a favorite among locals and visitors alike. This secluded beach provides a tranquil escape from the crowds, allowing you to relax and unwind amidst the natural beauty of the island. Whether you prefer to lounge on the soft sandy shores or take a refreshing swim in the gentle waves, Love Bay offers a serene paradise for beach lovers.
Askeli Beach, another popular destination on Poros Island, offers a vibrant atmosphere and a range of water sports activities. From jet skiing to paddleboarding, there are plenty of opportunities to get your adrenaline pumping and make the most of your time on the water. For those seeking a more laid-back experience, simply soak up the sun, read a book, or enjoy a leisurely stroll along the golden sands of Askeli Beach.
Monastiri Beach, also known as the Russian Bay, is a hidden gem on Poros Island. Nestled amidst lush greenery, this beach offers a tranquil retreat for those seeking a secluded spot to relax and unwind. The crystal-clear waters and breathtaking natural surroundings make Monastiri Beach a perfect destination for nature lovers and peace-seekers.
Russian Dockyard Beach, located near the ruins of the Russian naval base, offers a unique beach experience with a historical backdrop. As you relax on the sandy shores, you can admire the remnants of the dockyard and imagine the island's rich maritime history. Russian Dockyard Beach is a perfect blend of natural beauty and cultural heritage, providing a memorable beach experience for visitors.
Apart from these well-known beaches, Poros Island is dotted with numerous coves and bays, each offering its own slice of paradise. These hidden gems, often surrounded by lush greenery, provide a sense of privacy and seclusion, allowing you to immerse yourself in the natural beauty of the island. Whether you stumble upon a small rocky cove or discover a hidden sandy beach, these lesser-known spots offer a chance to escape the crowds and find your own personal oasis in Poros Island. These non-organized beaches are:
Vagionia
Agios Stefanos
Gerolimani
Artimos
Karapoliti
Makrogianneika
Mpiseika
Harmpila
Psili Ammos
Tselevinia
Pergari
Soupia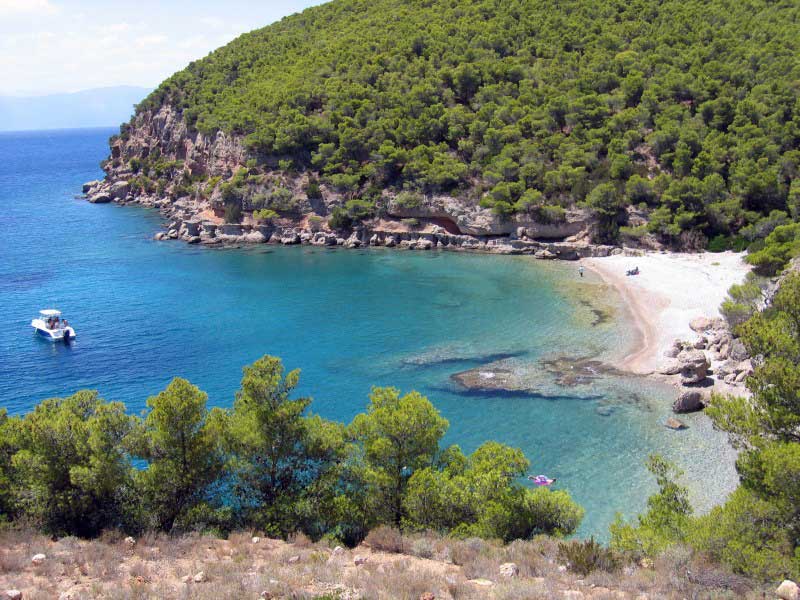 Hiking and Cycling in Poros
Beyond the beaches, Poros Island offers opportunities for hiking or cycling and exploring its charming villages. The island is known for its pine forests, which provide a serene backdrop for outdoor adventures. Lace-up your hiking boots and embark on a journey through the island's trails, where you'll be rewarded with stunning vistas and encounters with local flora and fauna.
The scent of the pine trees fills the air, invigorating the senses and creating a sense of calm. As you wander through the forest trails, you'll be surrounded by the vibrant green hues of the trees, the chirping of birds, and the gentle rustling of leaves. The pine forests offer a sanctuary for contemplation and relaxation, allowing you to reconnect with nature and rejuvenate your spirit.
As you traverse the paths, you'll come across authentic Greek villages, each with its own unique character and charm. Stop by a traditional tavern to savor delicious Greek cuisine or take a moment to admire the architecture of the whitewashed houses adorned with colorful flowers.
Hiking and Cycling Trails in Poros Island
No visit to Poros Island is complete without indulging in the local gastronomy. The island boasts a variety of restaurants and taverns where you can savor authentic Greek dishes. From freshly caught seafood to mouthwatering souvlaki, each dish is prepared with care and showcases the flavors of the Mediterranean.
To add a touch of adventure to your visit, embark on a boat tour to explore the nearby islands. Poros Island serves as a perfect base for island hopping adventures to destinations such as Aegina, Spetses, Hydra, and Porto Heli. These islands offer their own unique attractions, from ancient ruins to picturesque beaches, providing a diverse range of experiences for intrepid travelers. Embark on a journey across the azure waters of the Saronic Gulf, discovering hidden gems and creating unforgettable memories along the way.
Local Cuisine and Dining Options
When it comes to culinary delights, Poros Island is a food lover's paradise. The island offers a plethora of dining options, ranging from traditional taverns to trendy restaurants, where you can indulge in the flavors of Greece.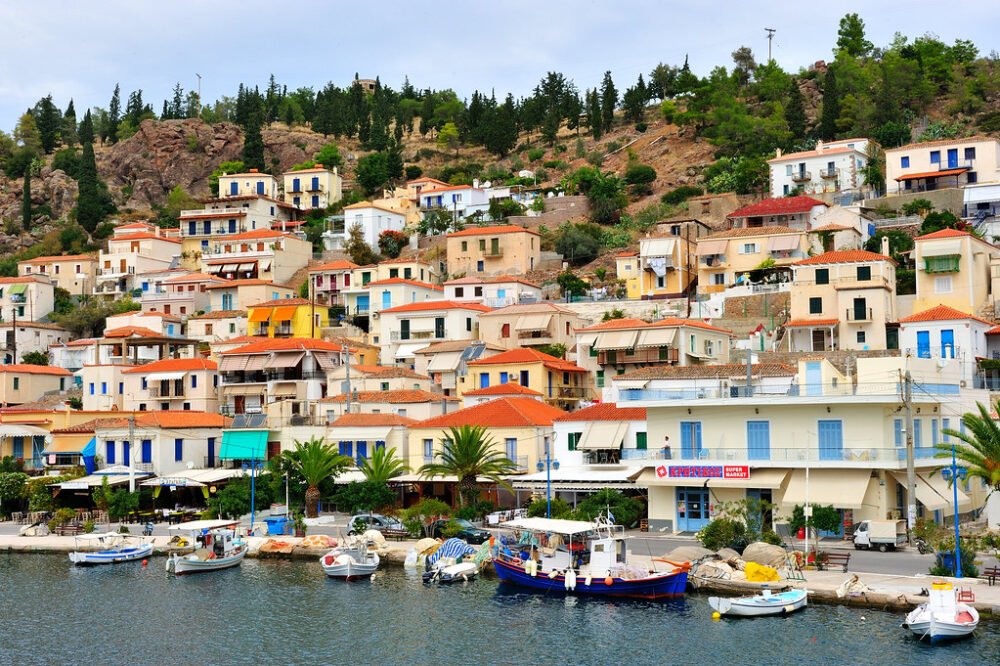 Greek cuisine is renowned for its simplicity, freshness, and vibrant flavors, and Poros Island is no exception. The island's restaurants and taverns take pride in serving dishes that showcase the best of local ingredients and traditional cooking techniques. From freshly caught seafood to mouthwatering meat dishes, the island's culinary scene caters to all palates and preferences.
Apagio is a popular restaurant on Poros Island, known for its warm atmosphere and delicious Greek cuisine. Here, you can savor a variety of traditional dishes, such as moussaka, souvlaki, and Greek salads, all prepared with the finest local ingredients.
Gia Mas is another highly recommended restaurant, offering a delightful blend of traditional and modern Greek flavors. Whether you opt for a classic dish or a contemporary creation, Gia Mas promises a memorable dining experience.
In addition to savory delights, Poros Island is also famous for its sweet treats. Make sure to visit Melistakto Cafe, where you can indulge in traditional Greek sweets. From baklava, a pastry filled with nuts and honey, to loukoumades, deep-fried dough balls drizzled with syrup, these delectable desserts will satisfy any sweet tooth. Pair your sweet treat with a cup of Greek coffee, known for its strong and rich flavor, and immerse yourself in the relaxed ambiance of the cafe.
For those who prefer a more hands-on culinary experience, Poros Island offers cooking classes where you can learn to prepare traditional Greek dishes. Under the guidance of experienced local chefs, you'll discover the secrets of Greek cuisine and have the opportunity to create your own culinary masterpieces. These cooking classes provide a unique cultural experience and offer a deeper understanding of the island's culinary heritage.
Transportation and Accommodation Tips
Getting to Poros Island is relatively easy, with various transportation options available (ferry, hydrofoil or car). Ferries depart regularly from the port of Piraeus (Athens), making it convenient for travelers to reach Poros Island. The ferry ride itself is a delightful experience, allowing you to soak in the beauty of the Greek coastline and the sparkling waters of the Saronic Gulf.
Here are your transportation options with detailed instructions:
Get to Poros by ferry (1-3 hours + time to get from Athens to Piraeus):
Depart from Piraeus, which is easily accessible from Athens. If you're in Athens:
Take the green line train to Piraeus station.
Alternatively, you can take the X80 bus, which connects both Athens Airport and Syntagma to Piraeus.
Choose between a regular ferry (about 3 hours) or a hydrofoil (only 1 hour). Note that hydrofoils have baggage restrictions and don't carry cars.
Get to Poros by car and ferry (approx. 2 h 30 minutes):
Drive from Athens to Galatas in the Peloponnese. Here's how:
Take the Athens-Corinth highway.
Cross the Corinth Canal at the Isthmus.
Follow the signs to Epidaurus and then to Galatas.
Once in Galatas, take the 10 minute car ferry to Poros.
Once you arrive on Poros Island, getting around is a breeze. The main town can easily be explored on foot, as it is compact and pedestrian-friendly. Stroll along the seafront boulevard, wander through the narrow streets, and immerse yourself in the charming ambiance of the town.
If you prefer to venture further afield, small buses, boats, and car rentals are available, providing convenient transportation options. These modes of transport allow you to explore the island's hidden corners, reach secluded beaches, and discover the beauty of Poros at your own pace.
When it comes to accommodation, Poros Island offers a range of options to suit every traveler's needs and preferences. Whether you're seeking a luxurious resort, a cozy guesthouse, or a budget-friendly hotel, you'll find a variety of choices on the island. In Poros you will find beachfront hotels, family-run guesthouses, and charming villas, each offering a unique experience and a chance to immerse yourself in the island's beauty. Some of these hotels are:
New Aegli Resort Hotel – Simply furnished rooms in a laid-back property with a popular restaurant, outdoor pool, and sea views
7 Brothers Hotel – Chic, airy rooms with balconies and gulf views in a polished hotel with free Wi-Fi and a terrace
Panorama Apartments – The rooms have air conditioning, a kitchen, and a bathroom. A balcony is part of the standard equipment of all rooms
Dimitra Boutique Hotel – Minimalist rooms, some with sea views, in a stylish hotel with Wi-Fi and a buffet breakfast
Niki's Village – Simple apartment hotel with sea views, an outdoor pool, bar, and free breakfast
Best Time to Visit and Nearby Attractions
The best time to visit Poros Island is between May and October, when the weather is warm and ideal for outdoor activities. During these months, you can enjoy the island's beaches, explore the charming town, and indulge in water sports activities. The summer season also brings a vibrant atmosphere to the island, with various cultural events and festivals taking place.
Poros Island serves as an excellent base for exploring nearby attractions and embarking on island hopping adventures. From Poros, you can easily visit the town of Porto Heli and the other islands in the Saronic Gulf, such as Aegina, Spetses and Hydra. These islands offer their own unique attractions, from ancient ruins to pristine beaches, providing a diverse range of experiences for travelers:
Aegina, known for its pistachio orchards and the stunning Temple of Aphaia, is a popular choice for a day trip from Poros.
Spetses, with its charming horse-drawn carriages and elegant mansions, offers a glimpse into Greece's rich maritime history.
Hydra, famous for its car-free streets and picturesque harbor, is a haven for artists and nature lovers.
Porto Heli, located on the mainland, is a gateway to the beautiful Peloponnese region, with its ancient sites, scenic landscapes, and charming coastal towns.
Poros Island itself is surrounded by islets of historical significance, such as Modi, Daskaleio, and Bourtzi. These small islands offer opportunities for exploration and a chance to delve deeper into the region's rich history:
Modi, with its ancient ruins and archaeological sites, provides insights into the island's past.
Daskaleio, located near Poros town, is home to a charming church and a small beach, perfect for a peaceful retreat.
Bourtzi of Poros, with its castle fortification and panoramic views, offers a glimpse into the island's maritime defenses.
Poros Island, a Memorable Vacation Destination
Poros Island, with its captivating natural beauty, rich history, and warm hospitality, promises a memorable vacation experience. From the stunning landscapes to the charming town, the island offers a blend of relaxation, exploration, and cultural immersion. Whether you're lounging on the golden beaches, exploring the historical landmarks, indulging in local cuisine, or simply enjoying the scenic beauty of the island, Poros will leave you with lasting memories and a desire to return.
Immerse yourself in the beauty of Poros Island, discover its hidden gems, and create unforgettable experiences in this enchanting Greek paradise. Explore the top attractions, indulge in the flavors of Greece, and let the island's natural wonders captivate your senses. Poros Island awaits, ready to offer you a vacation filled with beauty, adventure, and relaxation.
For more info, visit the official site of Poros Island: https://visitporos.com
---
Islands in the Saronic Gulf