Dimitris Domazos, more commonly known as Mimis Domazos in Greece, is a legendary figure in Greek football, celebrated for his exceptional skills as an attacking midfielder. His skill, agility, and strategic understanding of the game set him apart as a player.
Spanning several impressive decades, Domazos' contribution to Greek football is both significant and enduring: He captained Panathinaikos, one of Greece's most prestigious football clubs, leading the team to numerous victories and record-breaking performances.
Highlights of Domazos' Career
Domazos, often referred to as "The General", had a remarkable soccer career with many highlights. Here are some of the most notable:
Impressive Debut and Early Career: Domazos made his unofficial debut for Panathinaikos in a friendly match against AEK Athens on December 26, 1958. He officially joined Panathinaikos in the summer of 1959 at the age of 17. Despite his small stature, Domazos managed to impress with his superb passing, incredible assists and leadership, earning him the respect of his teammates and opponents, as well as the admiration of the fans.
Record-Breaking Performances: On November 26, 1961, Domazos scored 4 goals in a 5-2 away win over Proodeftiki, becoming the club's first player to score four goals in an official match.
Ballon d'Or Nominations: Domazos was nominated for the prestigious Ballon d'Or award in 1969 and 1971, underlining his recognition as one of the best footballers in the world at the time.
Breathtaking bicycle kick: On March 17, 1974, in a crucial derby against Olympiacos, Domazos scored a stunning bicycle kick to tie the game at 1-1.
Championship Titles and Cups: Domazos won an impressive 9 Greek championships, 3 Greek Cups and 1 Balkan Cup with Panathinaikos, including 2 domestic doubles in 1969 and 1977. He also won another Greek Championship title with AEK Athens.
Record Appearances and Goals: Domazos made a total of 536 appearances and scored 139 goals during his career, which is still a record.
International Career: Domazos also had a successful international career, making 50 appearances for the Greek national team and scoring 4 goals.
1971 European Cup Final: The pinnacle of his career was the 1971 European Champions' Cup final against Ajax Amsterdam. It was the first time a Greek football team reached a European final.
To celebrate his extraordinary career, the International Federation of Football History & Statistics (IFFHS) included Domazos in the 2021 Best XI of all time in Greek football (link). The IFFHS All Time Greece Dream Team was formed in a 4-4-2 formation, with Domazos playing as an offensive midfielder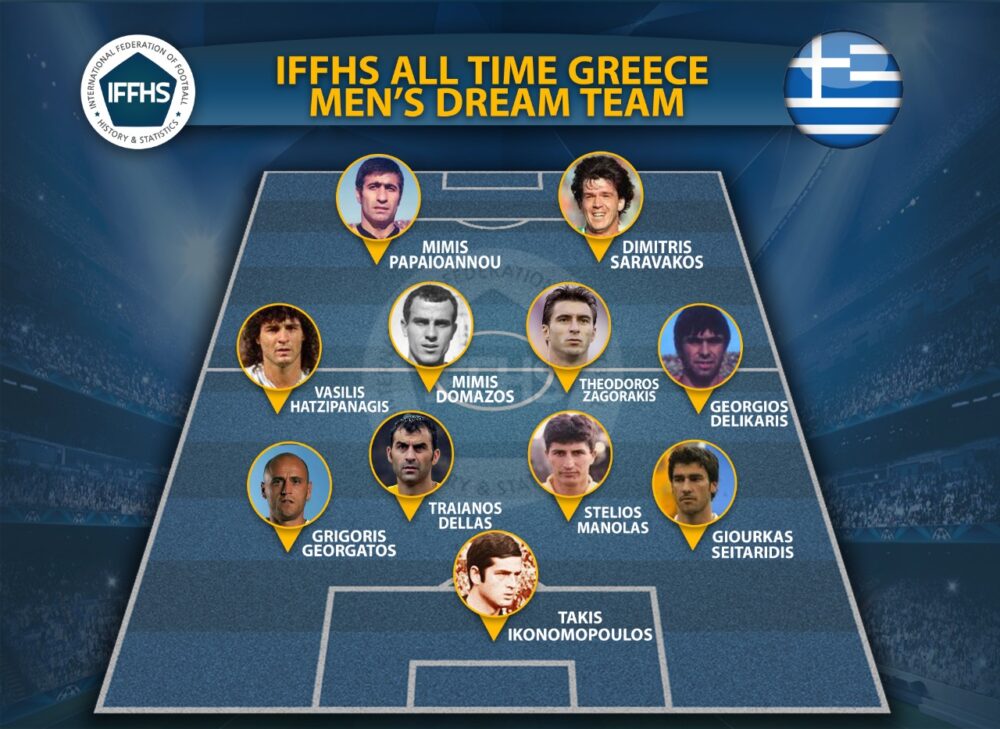 Early Career and Achievements
Mimis Domazos began his illustrious career with Panathinaikos and proved his worth from the start, winning three championships in his first three seasons. His exceptional skills found a perfect partner in teammate Antonis Antoniadis, and together they formed a formidable attacking duo. Their combined efforts often led to victories and enhanced Panathinaikos' reputation.
A major highlight of Domazos' early career was leading Panathinaikos to the European Cup final in 1971. Although the team narrowly lost to Ajax in the final, the journey to the championship was a testament to Domazos' leadership and skill. In the same year, they also reached the final of the Intercontinental Cup, where they lost to Nacional.
Mid Career and Move to AEK Athens
When Domazos joined AEK Athens after leaving Panathinaikos, he was already an experienced player with a reputation for excellence. His contribution to the team was immediate and impactful, leading them to another league title. Domazos' time at AEK Athens further cemented his status as one of the country's finest footballers, demonstrating that his skills and leadership are transferable between teams.
Return to Panathinaikos and Final Career Years
Domazos' love for Panathinaikos led him to return to the club after his stint at AEK Athens, further cementing his status as a club legend. Even in the twilight years of his career, Domazos' performances remained at a high level, resulting in several records.
He holds the record for most league appearances in Greece with a whopping 536 games. Domazos' scoring prowess was equally impressive, with a total of 139 goals in his career, including 134 with Panathinaikos and 5 with AEK Athens.
Domazos' career was also decorated with numerous honors, including 9 championships and 3 cups with Panathinaikos.
International Career and Achievements
Domazos' talents weren't limited to club football. He also had a successful international career, representing Greece on the world stage. He made 50 appearances for Greece and scored four goals, further demonstrating his versatility as a player. His contributions to the national team were instrumental in raising the status of Greek football internationally.
Personal Life and Marriage to Vicky Moscholiou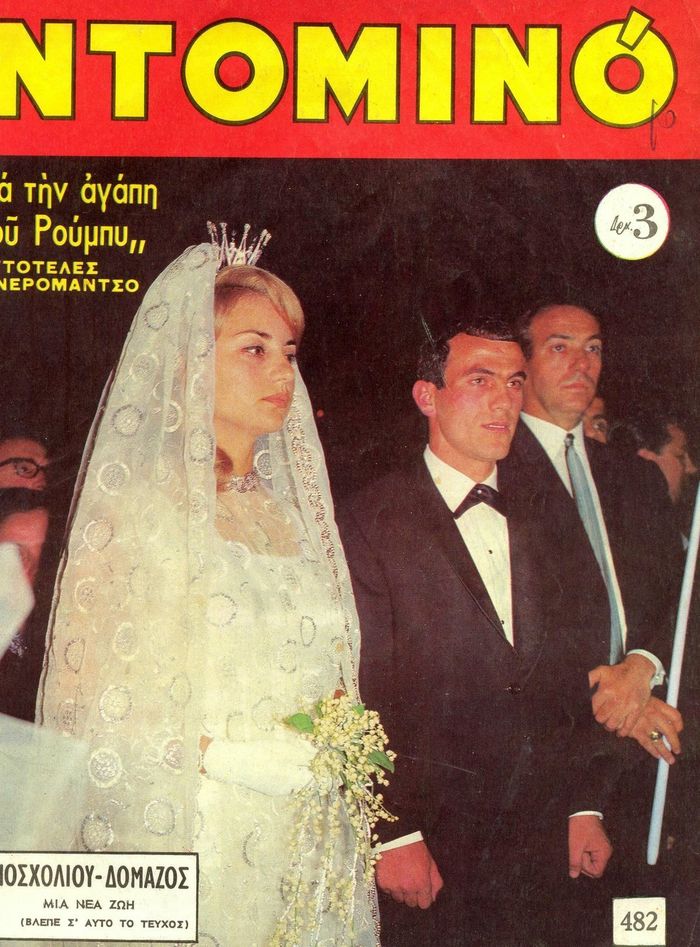 In 1967, Domazos married the late Vicky Moscholiou, a renowned Greek singer. Their wedding ceremony was a grand affair held at the Metropolitan Cathedral of Athens, attracting over 30,000 attendees and extensive media coverage.
Their union was seen as the fusion of two Greek cultural icons, further enhancing Domazos' public image. Moscholiou was an avid supporter of Panathinaikos and was often seen cheering for the team at home games.
Post-Retirement Activities and Business Ventures
Life after retirement has seen Domazos transition from a successful soccer player to a successful businessman. He owns a chain of five-a-side soccer stadiums, maintaining his connection to the sport while contributing to its development at the grassroots level. His business ventures also reflect his passion for the game and his ongoing commitment to developing talent in Greece.
The Legacy of Mimis Domazos
Mimis Domazos' legacy extends far beyond his personal achievements. He is widely regarded as one of the greatest footballers Greece has ever produced. His incredible skill, leadership and dedication have had a significant impact on Greek football, shaping its development and standing in the international arena. Recognized as one of the greatest footballers in Greek history, Domazos' impact on the sport continues to inspire current and future generations of footballers.
Mimis Domazos, often referred to as "The General," had a remarkable football career with numerous highlights. Here are some of the most notable ones: