Greece is primarily a mountainous country with more than 300 major and minor mountain ranges. It is the most mountainous country in Europe after Norway and Albania. Its distinctive feature, however, is that you can see the sea from almost every mountain. No part of the interior is more than 100 kilometers (60 miles) from the coast. This combination of mountains and sea, the constant succession of rock and water, form a picture of enchanting beauty and create the right conditions for unique ecosystems.
The mountains of Greece are covering 60% of the Greece area. Most Greek islands are actually the peaks of the submerged landmass of Aegeis, which once connected mainland Greece to Asia Minor.
The most important mountain range is the Pindus, which forms the "backbone" of mainland Greece and extends to the Peloponnese and Crete.
Greek mountains are not particularly high, with none over 3,000 meters. However, their steep cliffsides, chasms and gorges make even medium-sized peaks look like huge mountains. This is the case with Mount Dirphe in Euboea, a pyramid-shaped height whose sides drop sheer into the Aegean Sea.
Table of Contents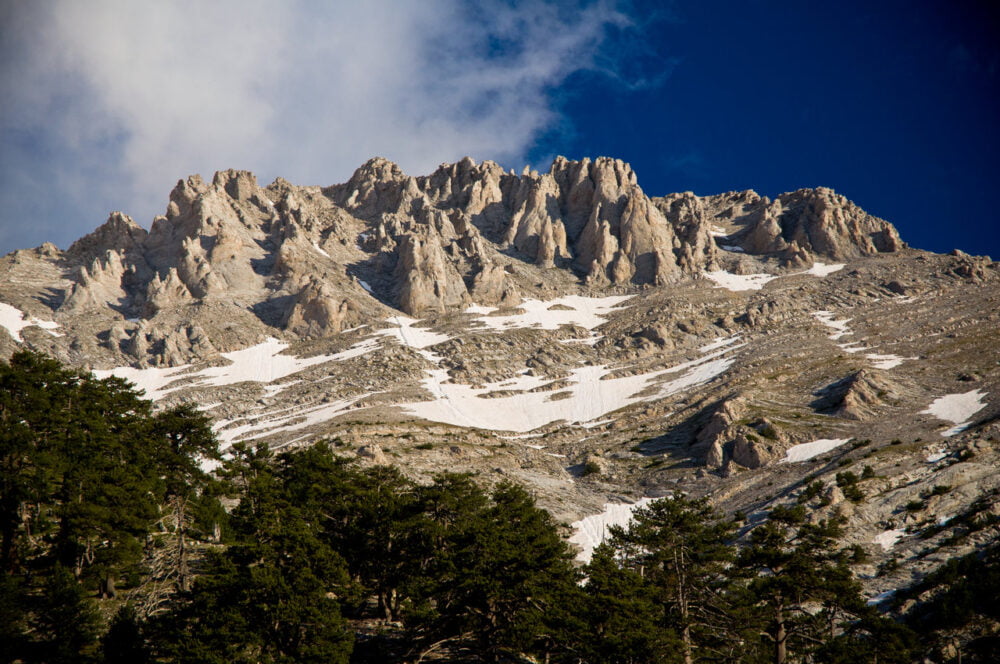 The Highest Mountains in Greece
The highest mountain in Greece is Mount Olympus in Macedonia, which reaches a height of 2,917 m (Mytikas Peak). Olympus is world famous as the home of the Greek gods, which is why they were also called the Olympian gods.
About 40 mountain ranges in Greece exceed 2,000 m. These include Mount Smolikas (2637 m), Kaimaktsalan (2524 m), Gramos (2520 m), Giona (2510 m), Parnassus (2457 m), Psiloritis (2456 m), the White Mountains (2452 m), and Taygetos (2404 m).
Mount Olympus is the highest mountain in Greece, reaching a height of 2,917 meters. It is located in the Olympus National Park and is known for its cultural, historical, and natural significance. The mountain has 52 different peaks, with Mytikas being the highest.
Mount Smolikas is the second highest mountain in Greece, standing at 2,637 meters. It is located in the Ioannina regional unit in northwestern Greece. The mountain is part of the Pindus Mountains and is known for its ophiolite rocks and alpine lake called "Drakolimni Smolika".
Mount Kaimaktsalan, also known as Vorras, is the third highest mountain in Greece with a peak reaching 2,524 meters. It is known for its snow resort, multiple rivers, and dense forests of pines, firs, and beechwoods.
Mount Gramos is another high peak in Greece, reaching a height of 2,520 meters. It is known for its ecological value and the role it played during the Greek civil war. The mountain is home to a rich variety of flora and fauna, including the brown bear, wolf, chamois, and European otter.
Mount Giona: Also known as Aselinon Oros in classical antiquity, Mount Giona is the highest mountain south of Olympus and the fifth overall in Greece. It is located in Phocis, Central Greece, between the mountains of Parnassus to the east, Vardousia to the west, and Oeta to the north. Its highest peak is Pyramida at 2,510 meters.
Mount Parnassus: This mountain range is located in central Greece and is historically significant to the Greek nation and the earlier Greek city-states. Its highest peak is Liakouras, with an altitude of 2,457 meters. The mountain is also the location of historical, archaeological, and other cultural sites, such as the Oracle of Delphi.
Mount Ida (Psiloritis): Also known as Idi, it is the highest mountain on the island of Crete, with an elevation of 2,456 meters. It has the highest topographic prominence of any mountain in Greece. The mountain was sacred to the Titaness Rhea in Greek mythology, and according to legend, it is one of the places where the god Zeus was born.
The White Mountains (Lefka Ori): Located in Western Crete, in the Chania prefecture, the White Mountains or "Lefka Ori" occupy a large part of the center of West Crete. They consist mainly of limestone, from light grey to bluish or black color. The highest summit is Pachnes at 2,453 meters, and there are over 30 summits that are over 2,000 meters high.
Mount Taygetos: Taugetus, is a mountain range in the Peloponnese peninsula in Southern Greece. The highest peak of Mount Taygetos is called Profitis Ilias and it stands at 2,404 meters. The mountain range is a popular hiking destination and it is also known for its diverse flora and fauna.
Rich Biodiversity and History
The mountains of Greece are known for their rich biodiversity, rare landscapes, and unique forests. Their forests are home to various species of flora and fauna, which is why many of them are protected as national parks.
The mountains of Greece are known not only for their natural beauty but also for their historical and mythological significance. From the dwelling-places of gods and heroes, they have become places of inspiration and sources of human creativity. For example, Mount Parnassus is known as the home of the Muses and Mount Othrys as the home of the Titans.
National Parks on the Mountains of Greece
Greece has several national parks, mostly in mountainous areas:
Mount Olympus National Park: Established in 1938 as Greece's first national park. It is home to over 1700 plant species, including rare and unique species. Wildlife includes wolves, jackals, deer and over 100 bird species. It's also recognized in ancient Greek mythology as the dwelling place of Greek gods.
Parnitha National Park: Located an hour from Athens, it serves as a retreat for the city's residents. The park features caves and a remarkable population of the rare red deer. Visitors can enjoy trekking, climbing, biking and canyoning.
Parnassos National Park: Located near Delphi, this park has three peaks over 2300m in height. Activities range from hiking and rock climbing to skiing and snowboarding in the winter.
Iti National Park: Also known as Oeta National Park, it is located on the upper slopes of Mt. Iti. It features a green expanse of fir and black pine forests, meadows, wild mushrooms and marsh orchids surrounding meltwater pools.
Samaria National Park: Central to this park is the extensive 16km Samaria Gorge, a major attraction for Crete's hikers.
Northern Pindos National Park: A vast area covering the Vikos-Aoos and Valia Kalda zones. It's a reservoir of pure rivers, forests, flower-rich grasslands and lakes. Approximately one third of Greece's plant species live here, with fauna such as fish, foxes, chamois, rare birds, otters and bears.
Ainos National Park: Located on the island of Kefalonia, it is characterized by ancient Greek fir and black pine trees. The park has five designated hiking trails.
These parks offer paths to hike, observe wildlife, and enjoy the scenic beauty of Greece's mountainous landscapes.
Other Notable Mountains in Greece
In addition to Mount Olympus, other notable mountains in Greece include Mount Lycabettus in Athens, which is the highest mountain in the city and offers exceptional views of the city, including landmarks such as the Acropolis and the Panathenaic Stadium.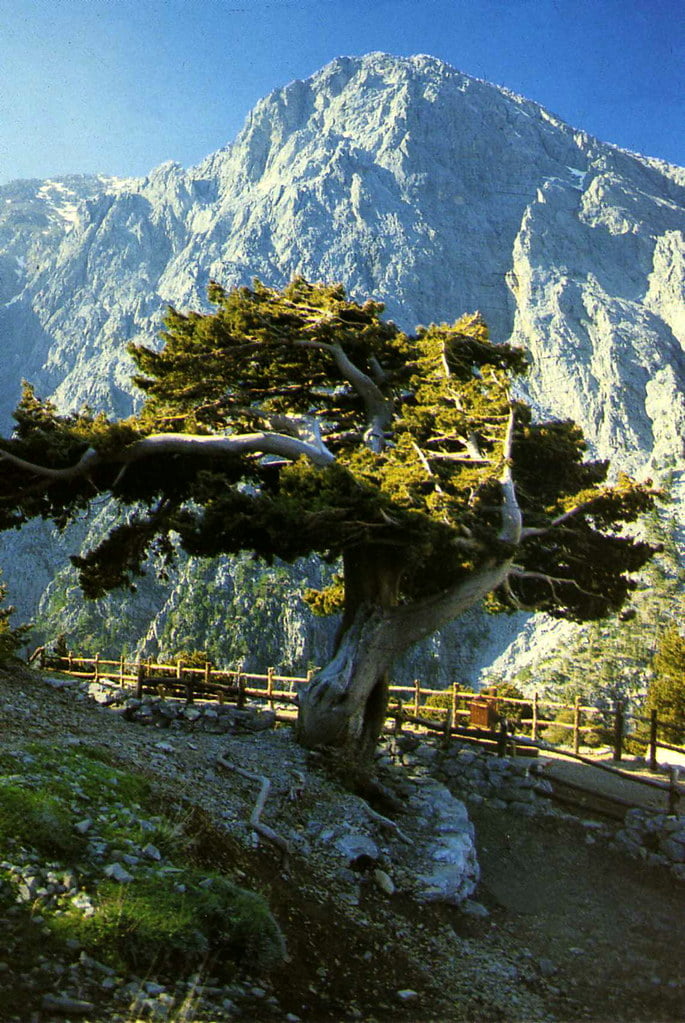 The White Mountains in western Crete are made up of dozens of peaks that remain snow-capped until late spring, with the highest in the range being Pachnes, which reaches over 8,000 feet. Mount Ida is the highest mountain in Crete at just over 8,000 feet and has spectacular views to match.
Tzoumerka or Athamanika is a mountain range located in northwestern Greece. It is part of the wider Pindus mountain range. The highest point of this range is the mountain Kakarditsa, which stands at an elevation of 2,429 meters. The length of the Athamanika range is approximately 40 kilometers from north to south, and its width is approximately 15 to 20 kilometers from east to west.
Mount Tymfi, part of Greece's northern Pindus range, is a prominent feature in the Zagori region, rising to 2,497 meters with its highest summit, Gamila. This massif, which includes the stunning Vikos Gorge, is a key part of the Vikos–Aoos National Park, which attracts over 100,000 visitors annually.
Mount Parnitha: Located less than an hour away from Athens, Mount Parnitha is popular with city-dwellers and offers beautiful views of the Saronic Gulf and Athens in the distance[1].
Mount Eros: Located on the car-less island of Hydra, Mount Eros offers picturesque hiking trails and 360-degree views of the surrounding islands and sea. The mountain's name, Eros, is a capricious twist of fate borrowed from the Greek god of love. It seems that even mountains can't escape a good romance, and Eros is no exception, seducing visitors with its breathtaking views and perhaps hoping they'll fall in love with the view, if not each other.
Mount Hymettus: Less than 30 minutes from the center of Athens, Mount Hymettus is a serene mountain that offers extensive panoramas of the city.
Mount Skopos: Located on the island of Zakynthos, Mount Skopos offers excellent viewpoints and hiking opportunities.
Mount Pantokrator is the highest mountain on the island of Corfu, located in north-eastern part of the island. It stands at an elevation of 906 meters (2,972 feet). The mountain offers a panoramic view of the entire island of Corfu, and on clear days, you can even see Albania, which is a short distance away from the island. At the summit of Mount Pantokrator, there is a café for tourists and a monastery.
These mountains offer a range of activities such as hiking, mountain biking, horse riding, and skiing in winter. They are also home to many mountaineering and alpine clubs that offer organized activities in the mountains.
Ski Centers in Greece
The country boasts several ski centers throughout its mountainous terrain:
Mount Parnassos Ski Center
Kalavrita Ski Center
Seli Ski Center
Vasilitsa Ski Center
Pisoderi Ski Center
Elatochori Ski Center
Tria-Pente Pigadia Ski Center
Falakro Ski Center
Kaimaktsalan Ski Center
Mainalo Ski Center
These centers cater to different skill levels and are generally open from December to April, with the best conditions usually in January and February.
---
Read more about the Geography of Greece