Greece, a country known for its rich history, stunning architecture, and beautiful beaches, is also home to a plethora of diverse and awe-inspiring gorges.With over 250 small and large gorges located in Crete alone, the country offers a wide range of natural wonders to explore. Each gorge, whether on the mainland or one of Greece's many islands, offers its own unique charm and beauty. From towering cliffs to vibrant wildflowers, gorges in Greece showcase the diverse landscapes the country has to offer.
In recent years, canyoning has become a popular activity in Greece, offering thrill-seekers and nature lovers an exciting way to explore these natural wonders. This extreme sport, which involves navigating through gorges by walking, climbing, jumping and swimming, offers an exhilarating experience. Whether you're an experienced canyoner or a beginner looking to try something new, the gorges of Greece offer a wide range of experiences for all levels.
Table of Contents
Gorges in Mainland Greece and the Greek Islands
Gorges can be found throughout mainland Greece and its islands, offering a wide variety of landscapes and experiences. Some of these gorges, such as the Samaria Gorge, are located on the islands, offering visitors a unique island-hopping adventure. Others, such as the Vikos Gorge, are located on the mainland and offer a more traditional hiking experience. The sheer variety of gorges in Greece ensures that there is something for everyone, regardless of interest or ability.
Notable gorges in Greece include Vikos Gorge, Vouraikos Gorge, Loussios Gorge, Acherontas Gorge, Neda Gorge, Sarakina Gorge and Enippeas Gorge. Each of these gorges offers a different experience, from the deep, narrow passages of Vikos Gorge to the historic monasteries of Loussios Gorge. Visitors can choose to explore a single gorge or embark on a multi-day adventure to explore several. Either way, each gorge promises a unique and unforgettable experience.
Samaria Gorge
Located in Chania, Crete, Samaria Gorge is one of the most famous gorges of Greece. It is recognized not only for its stunning natural beauty, but also for its impressive length, holding the title of the longest gorge in Europe, and is a designated UNESCO World Biosphere Reserve, ensuring its protection for future generations. The landscape of the Samaria Gorge is characterized by high and isolated cliffs, an abundance of wild flowers and the nests of various bird species.
The Samaria Gorge offers more than breathtaking views. It is also a haven for outdoor activities. Hiking is a popular pastime here, with trails winding through the gorge, offering stunning views at every turn.Traversing the Samaria Gorge is no small feat – it takes approximately 6 to 7 hours to traverse its length. However, the journey is well rewarded with stunning natural beauty and a sense of accomplishment.
Vikos Gorge
Nestled in the Pindus Mountains of Greece, the Vikos Gorge is a must for nature and adventure enthusiasts. This gorge holds the title as the deepest canyon in the world in relation to its width, making it a significant geological marvel.
The Vikos Gorge is located within the Vikos-Aoos National Park in the Zagori region, an area known for its rugged beauty and diverse ecosystems. The gorge itself is a testament to the forces of nature, with steep slopes, rocky cliffs, gullies and boulders carved by the Vikos Stream and the Voidomatis River over millions of years.
The Vikos Gorge is not only a geological marvel, but also a biodiversity hotspot. The area is home to a wide variety of plant species, some of which are known for their medicinal properties. Wildlife enthusiasts will be pleased to know that the rare species of chamois can be found in the rocky cliffs of the gorge.
Hiking in Vikos Gorge
Vikos Gorge is a prime spot for hiking, with multiple trails available. A popular route starts and ends in Vikos village, allowing flexible hike lengths without the need for taxi arrangements.
The hike kicks off with a descent from Vikos, showcasing views of the Astraka Towers and Voidomatis springs. After roughly 40 minutes, the trail evens out through new-growth woods, with an optional detour to the Voidomatis springs. The path to Monodendri grows more rugged, featuring rocky terrains and some climbing over an 8km stretch. Here, hikers can pause before heading back to Vikos, with a recommended stop for a swim in the 4-degree Voidomatis springs.
The climb to Vikos is challenging but doable within an hour. Optimal times for visiting are May through September, offering the best conditions. The hike is rated as moderate to difficult, due to the varied elevations, rocky paths, and potential summer heat.
Vouraikos Gorge
Located in Achaia, Peloponnese, the Vouraikos Gorge is renowned for its natural splendor. This gorge is home to a remarkable train ride, a journey that weaves through the stunning landscape and offers passengers panoramic views of the surrounding area. The train ride, which follows the path of the Vouraikos River, is a popular attraction for both locals and tourists. It is an experience that combines the thrill of a train ride with the beauty of Greece's natural landscapes.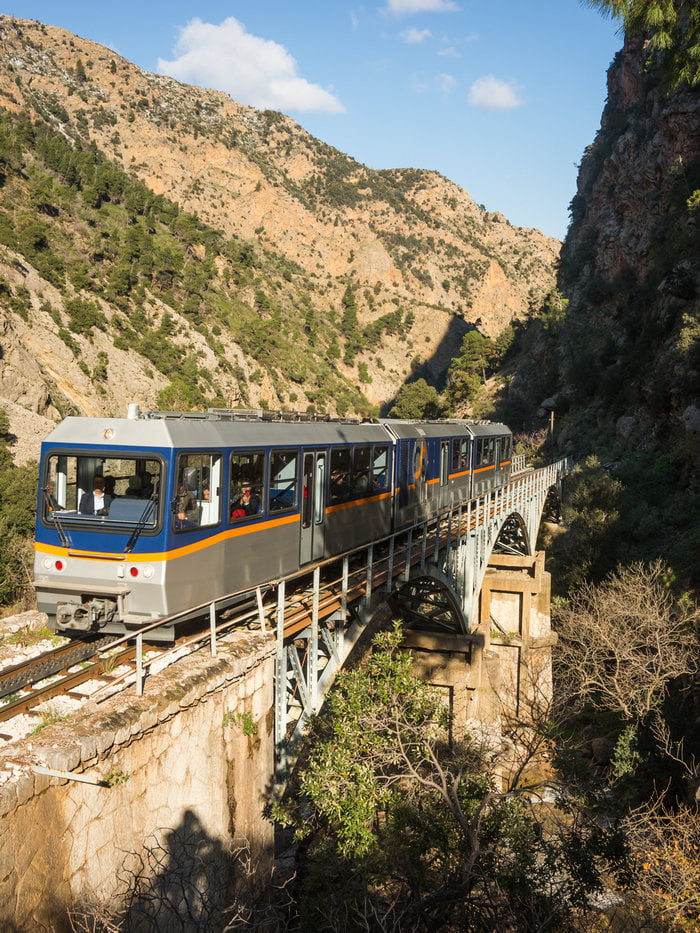 The Vouraikos Gorge offers more than just a scenic train ride. It also provides ample opportunities for hiking and exploration. Visitors can hike through the gorge and marvel at the towering cliffs, lush vegetation, and the Vouraikos River that carves its way through the landscape. Whether you choose to explore the gorge on foot or by train, the Vouraikos Gorge offers a unique perspective on the natural beauty of Greece. It's a destination that invites visitors to immerse themselves in nature while enjoying a truly unique experience.
Loussios Gorge
Located in Arcadia, Peloponnese, Loussios Gorge is a destination steeped in history and natural beauty. This gorge is known for its historic monasteries nestled in its rugged landscape. These monasteries hold significant religious significance and are carefully protected. Visitors can explore these historic sites while enjoying the natural beauty of the gorge.
The Lousios Gorge Trail is 9.1 miles long and is rated as challenging with an average completion time of 6 hours. It features a natural landscape with a swift river, high cliffs and dense forests. Hikers will navigate near the Lousios River, enjoying views of the landscape and listening to the sounds of the river creating waterfalls as it flows.
The hike includes some difficult climbs; carrying water and snacks is recommended. Appropriate clothing is required for monastery visits: long skirts for women and trousers for men. In addition to trekking, rafting on the Lousios River is also available. This hike offers a blend of natural beauty, cultural heritage and adventure.
Monasteries in Loussios Gorge
Prodromou Monastery, also known as Moni Agiou Ioanni Prodromou or St. John the Baptist Monastery. This monastery dates back to the 16th century and was rebuilt in 1973 over the remains of an old hermitage.
Philosophou Monastery. The old Philosophou Monastery, established in 963 AC, is one of the oldest Byzantine monuments in the country and is now in ruins. The new Philosophou Monastery, founded in 1691, is still active and is known for its ornately frescoed walls
Acherontas Gorge
Home to gurgling springs and awe-inspiring scenery, the Acherontas Gorge offers a hiking expedition like no other. Located in Epirus, Greece, this gorge is a popular destination for outdoor enthusiasts. The clear waters of the Acherontas River, the lush vegetation that lines its banks, and the stunning rock formations that tower above create a picturesque setting for a day of exploration.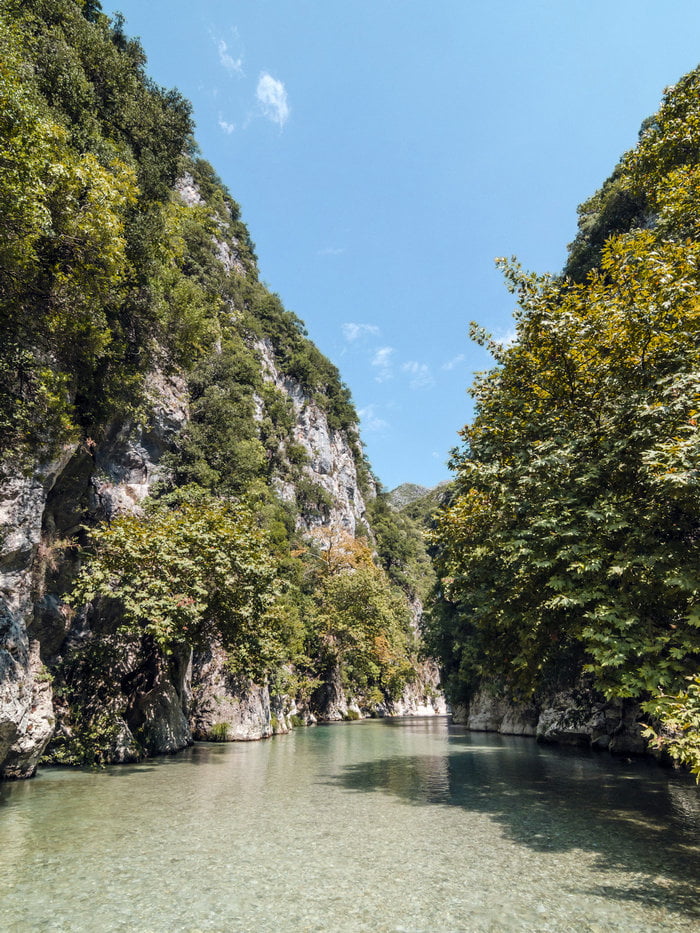 The Acherontas Gorge features two primary trails: a 12.7 km river route with an 8-hour trek and an 11.5 km mountain route taking around 6 hours. Each path provides stunning views of the gorge and its environs. Key attractions include the Gates of Hell at the gorge's entrance, the scenic Dala Bridge, and the Acheron Springs, where hikers can wade through the chilly waters—protective water shoes are advised due to the rocky riverbed.
Beyond hiking, the gorge is a hub for rafting and ziplining, with the river offering 3rd to 4th grade rapids that ease into gentle waters. Accessible by car, the Acherontas Gorge is a popular day-trip destination with numerous guided tours available from nearby coastal towns.
Sarakina Gorge
Sarakina Gorge, located near the village of Mythi in eastern Crete, offers a well-guided hiking experience for nature lovers. This beautiful gorge has well-marked trails that guide visitors through its rugged landscape. The towering cliffs, narrow passages and lush vegetation create a sense of adventure and exploration.
Sarakina Gorge is approximately 1.5 kilometers long with widths ranging from 3 to 10 meters and wall heights up to 150 meters. It is crossed by the River Kriopotamos, whose flow varies seasonally. Hikers can expect a moderate challenge in a 1 to 1.5 hour trek that includes river crossings and navigating stone steps. Visitors are advised to wear waterproof clothing or carry an extra set of clothes for the water passages.
Neda Gorge
Known for its unique wildlife and natural beauty, Neda Gorge offers a unique opportunity to explore Greece's diverse ecosystems. Located in the western Peloponnese, the gorge is known for its lush vegetation, crystal clear waters and picturesque waterfalls. The Neda River, which flows through the gorge, provides a refreshing backdrop for a day of exploration.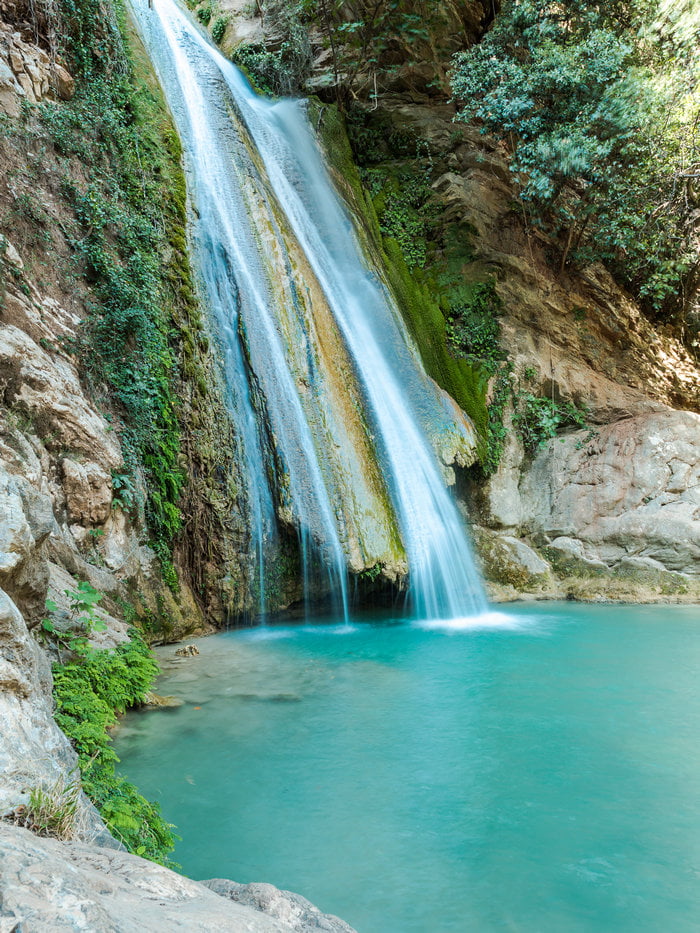 Navigating the Neda Gorge trail is of moderate difficulty. The path features tight rocky spots, notable ponds, cascades, and caverns. Expect to wade through water in certain sections, while some areas necessitate swimming. The landscape often presents steep, rugged conditions with slender trails that could complicate the journey. In wet weather, the path tends to be slick, demanding increased vigilance. Proper preparation is necessary for this hike, and it is recommended to plan the trip in advance. Guided tours are available for those who prefer to hike with a group and a guide. 
Enippeas Gorge
Located in Pieria, Northern Greece, the Enippeas Gorge is a destination that offers natural attractions for visitors to enjoy. Known for its rich biodiversity and stunning landscapes, the gorge is a haven for nature lovers. The well-maintained paths and accessible trails make it an ideal destination for those who wish to experience the beauty of Greece's gorges.
The Enippeas Gorge offers a number of outdoor activities for visitors to enjoy. Hiking through the gorge allows visitors to explore the diverse flora and fauna, witness the stunning natural formations, and soak in the peaceful atmosphere of the area. With its accessible trails and stunning natural beauty, the Enippeas Gorge is a must-visit destination for anyone looking to experience the best of Greece's natural landscapes.
The Diversity and Beauty of Gorges in Greece
From the famous Samaria Gorge in Crete to the majestic Vikos Gorge in the Pindus Mountains, these gorges offer breathtaking beauty and opportunities for outdoor adventure. Each gorge offers a unique opportunity for exploration and adventure, whether it's navigating the steep slopes of Vikos Gorge, exploring the historic monasteries of Loussios Gorge or taking a scenic train ride through Vouraikos Gorge.
The diversity and beauty of these gorges make them a must for any nature lover or adventure seeker. Each visit is an opportunity to immerse yourself in the stunning natural beauty of Greece and to appreciate the rich biodiversity that these gorges support. We encourage you to plan a visit to these gorges and experience firsthand the unparalleled natural beauty and adventure that they offer. Embark on a journey through the magnificent gorges of Greece and discover the wonders that await you in the pristine wilderness.
---
Read more: