The Diverse Rock Climbing Terrain of Crete
When it comes to rock climbing in Crete, you will find an impressive mix of routes and climbing styles, from traditional multi-pitch routes to modern sport climbing and deep water soloing. Let's break down the locations, each with its unique climbing features and challenges, that make Crete a climber's paradise.
The Ultimate Climbing Spots in Crete
Kapetaniana or Kofinas: A Climber's Mecca
Regarded as the pinnacle of sport climbing in Crete, Kapetaniana boasts over 130 routes on solid white limestone. The climbing experience here encompasses vertical walls, tufas, and colonettes, offering grades that stretch from 3b to 8a.
Beyond Kapetaniana
While Kapetaniana might steal the limelight, other areas such as:
Agiofarango, a picturesque gorge on the south coast of Crete with over 100 sport routes on both sides, allowing for sun or shade
Kalathas
Monte Vardia
Stavros
Theriso
Voulismeno Aloni
Skoteino
Treis Ekklisies
Agios Ioannis
Plakias
These areas offer climbers an assortment of routes, with grades ranging from 4c to 8c.
Ascending New Heights: Multi-Pitch Trad Climbing
For those interested in multi-pitch traditional climbing, Mount Gigilos is the place to be. Offering routes as long as 1500m, it features grades from VI to VIII+.
Other areas like Agios Ioannis also have some multi-pitch routes.
The Thrill of Deep Water Soloing
For those looking for an alternative climbing experience, Marmara, Tersanas Cave, and the area around Chania provide ample opportunities for deep water soloing.
The Essential Guidebooks and Gear Rental
Know Before You Go: Recommended Guidebooks
Several guidebooks provide exhaustive information about climbing spots across Crete. These include:
Crete: Climbing from North to South. The guidebook "Crete: Climbing from North to South" details rock and sports climbing routes in central Crete, covering areas like Agiofarango, Malia, and Skoteino. It features over 250 routes of varying grades and types, with Agiofarango having the largest selection. Each area includes a location map and access details. The book is bilingual in French and English with 128 pages.
Crete: Kapetaniana-Kofinas. The definitive guidebook for rock and sports climbing in Kapetaniana, Crete, offers comprehensive information on over 120 routes across 8 different areas. Published in 2006, the guidebook is available in multiple languages.
Greece Sport Climbing Guidebook. A 464-page guide is in English which covers 31 crags and 132 sectors in Greece, excluding Kalymnos. It includes 2,600 single-pitch and multi-pitch routes, along with photo topos and maps.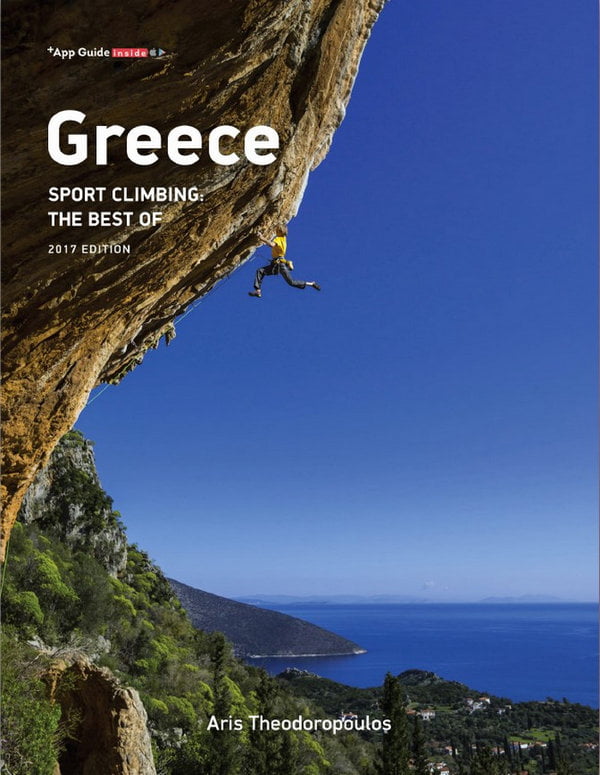 Gear Up: Where to Rent Your Equipment
Don't have your own gear? No worries. There are shops in Heraklion and Chania that offer affordable rentals for ropes, quickdraws, harnesses, and helmets. Certified guides are also available for hire.
Climb Safe: Essential Safety Tips
While climbing in Crete, it is essential to stay within your limits. Always ensure you are using the proper gear, regularly check anchors and knots, and don't forget to wear a helmet.
Climbing during off-peak hours and ensuring clear communication with your partners can significantly enhance your safety.
Timing is Everything: When to Go Rock Climbing in Crete
Spring and Autumn: The Climbing Sweet Spot
Crete has a Mediterranean climate, ideal for climbing in spring and autumn. During these seasons, temperatures range from 15-25°C in spring and 20-30°C in autumn, offering a balance of good temperatures, dry rock, and fewer crowds.
Summer and Winter: What to Expect
Summer can be extremely hot, often exceeding 30°C, while winter is mild with temperatures ranging between 10-18°C. Though these seasons are not ideal for climbing, they do offer some opportunities for the dedicated climber.
Routes for Beginners: Where to Start?
Here are some recommendations for beginner rock climbing routes in Crete based on the search results:
At Voulismeno Aloni near Heraklion, there are several easy beginner routes in the 4c to 5c range, such as Fodele (5c) and Unter Geiern (5c+). This crag has over 40 sport climbing routes on limestone walls.
The gorge at Agiofarango near Heraklion also has a good selection of beginner routes ranging from 4c to 5c. Routes like Amfivoli Eksodos (4c) and Odigos (5b) are recommended to start on.
In the Plakias area, the Paligremnos and Upper Paligremnos sectors have routes from 5a to 6a that are suitable for beginners. Routes like Plakias (5c), My Friend (5c), and Acropolitis (5c) are good options.
At Kria Vrisi near Spili, the Gré Dafni and Poro sectors have beginner sport routes from 4b to 5c, with recommendations like Gré Dafni (4c) and Poro (5a).
The Lefkogeia sector near Plakias has easy slab climbing from 5a to 5c on routes like Lefkogeia (5b) and Sunset (5c).
Guided intro climbs are offered in gorges like Therisso and Patsos for true beginners to learn techniques.
The Importance of Guidance: Learn the Basics
For true beginners, it is highly recommended to hire a guide or take lessons from an experienced climber. This helps in understanding the essential techniques and safety protocols.
Additional Resources for Climbing Enthusiasts in Crete
From varied climbing styles to extensive safety precautions and ideal seasons, Crete offers something for every climbing enthusiast. Whether you're a beginner or a seasoned climber, this guide provides all the essential information for a safe and thrilling climbing experience on this magnificent island.
---
Read more: