Gyros is a rotisserie meat, or the pita sandwich it is usually found in. In addition to the meat, there are also various salads and sauces inside the pita. The most common fillings are tomato, onions, yogurt, mustard, and ketchup.
The gyros is similar to the Turkish doner kebab, being meat roasted in vertically rotating cones from which slices are cut. Gyros and souvlaki are sometimes used as interchangeable terms in Greece although they refer to two different dishes.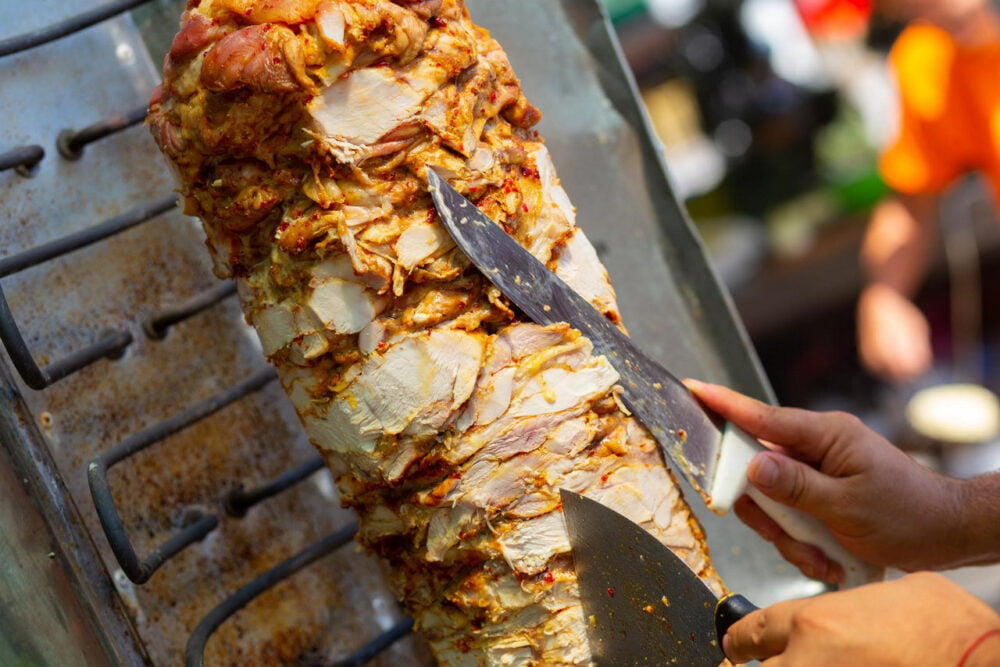 The seasoned meat stack is expertly roasted and shaved into delicate slices, then served in a pita with fresh tomatoes, crisp red onions, leafy greens, creamy Greek yogurt or tzatziki sauce, and sometimes, fried potatoes and a dash of paprika or cayenne pepper.
Despite its emblematic status in Greek cuisine, gyro's origins are a blend of cultures. The modern gyro debuted in Greece around 1922, brought by Greek and Armenian refugees from Asia Minor. These culinary artisans, particularly renowned Armenian gyro masters, established eateries that became community staples. Following WWII, the gyro's popularity expanded globally, paralleling Greek diaspora movements.
Renowned for its rich flavors, the gyro's history is as complex as its seasoning. Some historians suggest its lineage dates back to Alexander the Great's era, with soldiers roasting meat on sword-like skewers. Today, gyros is a global phenomenon, transcending its humble beginnings to feature in online delivery platforms and international dining scenes.
Gyro's popularity isn't confined to Greece; it's a culinary highlight for tourists and a staple in various cultures. Known as doner kebab in Turkey and shawarma in Arab countries, it's prepared with variations in meat and condiments, like the unique pistachio dusting in some Arab regions. This universally loved dish continues to be a symbol of Greek casual dining and street food culture.
---
Send a "Gyros Bouquet" instead of Flowers for Valentine's Day
---
The World's Largest Gyros
A restaurant owner in Patras has attempted to set a new world record by making a giant gyros, which weighed 1,850 kilos. Approximately 150 kg of spices and 100 kg of salt went into adding taste to the gyros. The structure to roast the gyros meat involved a 1.73-meter stainless steel skewer surrounded by 72 grills and powered by a 4-horsepower motor. A 2-ton natural gas tank provided the fuel for cooking the gyros, which allowed Kostas Dasios to enter the Guinness Book of World Records.
The previous record for the largest gyros was set in Cyprus by Lebanese restaurateur Sami Eid, who cooked an 1,814-kilo gyros made from 2,150 chickens.
On the way to his record-breaking effort, Kostas Dasios sliced the gyros pork meat into 100-gram servings and handed it out to passers-by in Patras' harbor.
Read more: