Sophia's House Private Villa in Crete Greece is located near the town of Almirida, which is located in the Apokoronas region of the north west coast of Crete.
Fully air-conditioned, the villa boasts a private infinity pool, sun terrace and ample parking. With its prime location, just a 20 minute walk from the beautiful beaches of Almyrida, guests can enjoy the crystal clear waters and golden sands at their leisure.
Inside, the villa exudes elegance with its tastefully decorated interiors and modern amenities. From the well-appointed bedrooms to the stylish living spaces, every detail has been carefully curated to ensure a truly memorable experience.
Whether you choose to relax by the pool or explore the surrounding area, this private villa in Crete is the epitome of luxury and tranquility.
Unforgettable views and tranquility
With its elevated position overlooking the azure waters of the Mediterranean Sea, the private villa in Crete offers guests unforgettable views and a sense of tranquility.
As you step out onto the sun terrace, you are greeted by breathtaking panoramic views that stretch as far as the eye can see. Whether you are relaxing by your private infinity pool or enjoying a meal on the terrace, the breathtaking views surround you, creating a serene and peaceful atmosphere.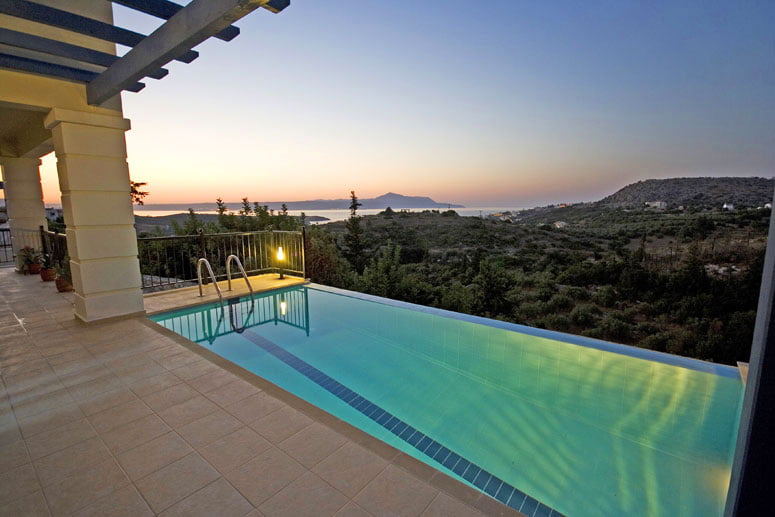 The villa's location, away from the hustle and bustle of the city, ensures a quiet and undisturbed stay, allowing guests to fully immerse themselves in the beauty of their surroundings. Whether you're sipping a glass of wine while watching the sunset or waking up to the gentle sounds of the sea, the villa's unforgettable views will leave a lasting impression on your mind and soul.
Indulge in privacy and seclusion
Experience the ultimate in privacy and seclusion, allowing you to truly escape the outside world.
With fully air-conditioned interiors, you can relax in complete comfort and enjoy the serenity of your own private retreat.
Step outside to indulge in the luxury of your own infinity pool, soak up the sun on the terrace, or simply unwind in the tranquility of the landscaped gardens.
The villa's secluded location provides a sense of exclusivity, ensuring your stay is undisturbed and uninterrupted.
Embrace the beauty of privacy as you create unforgettable memories in this idyllic haven.
Whether you are a couple looking for a romantic getaway or a family looking for a memorable vacation, this villa provides the perfect setting for an unforgettable experience in Crete.
Website: https://www.sophiashouse.co.uk