The Grande Albergo Delle Rose, or "The Grand Hotel of Roses," is a remarkable architectural jewel situated on the island of Rhodes. Its storied past intertwines with the history of the island, bearing witness to the changes that have swept through Rhodes over the past century.
Construction of the hotel began in 1925 during the period of Italian occupation, under the guidance of Florestano Di Fausto and Rodolfo Petracco, who were noted architects of the time. The goal was to create a luxurious space that embodied the Italian architectural ethos, and the Grande Albergo Delle Rose was born. It officially opened its doors on May 24, 1927, quickly gaining recognition as a beacon of elegance and style.
In the early years, the hotel catered to the Italian elite and soon became a hub of the social, political, and cultural life on the island. However, its operation as a hotel was disrupted by World War II, during which the building was used as a temporary housing facility for the Italian and German military.
After the end of the war and the departure of the Italians, the hotel was nationalized under the Greek government and was used as a school, a shelter for refugees, and later as an auxiliary hospital. It wasn't until the early 1950s that the building was restored to its original purpose as a hotel.
In the years that followed, the Grande Albergo Delle Rose regained its former glamour, hosting famous personalities such as Aristotle Onassis, the Churchill family, the Rockefeller family, and many famous Greek and international stars of the time.
However, the hotel faced challenges in the 1970s due to a slump in the luxury tourism market, and it closed its doors in 1974. The Grande Albergo Delle Rose remained shut for about 25 years until it was eventually bought by the Casino Rodos S.A. in 1993.
The new owners embarked on a grand renovation project to restore the building's past grandeur while adapting it to its new purpose. In May 1999, the Grande Albergo Delle Rose re-opened as the Casino Rodos, marking a new chapter in the building's rich history. Today, the building continues to dazzle visitors with its architectural grandeur, its casino, and its distinct charm, standing as a symbol of Rhodes' diverse cultural history.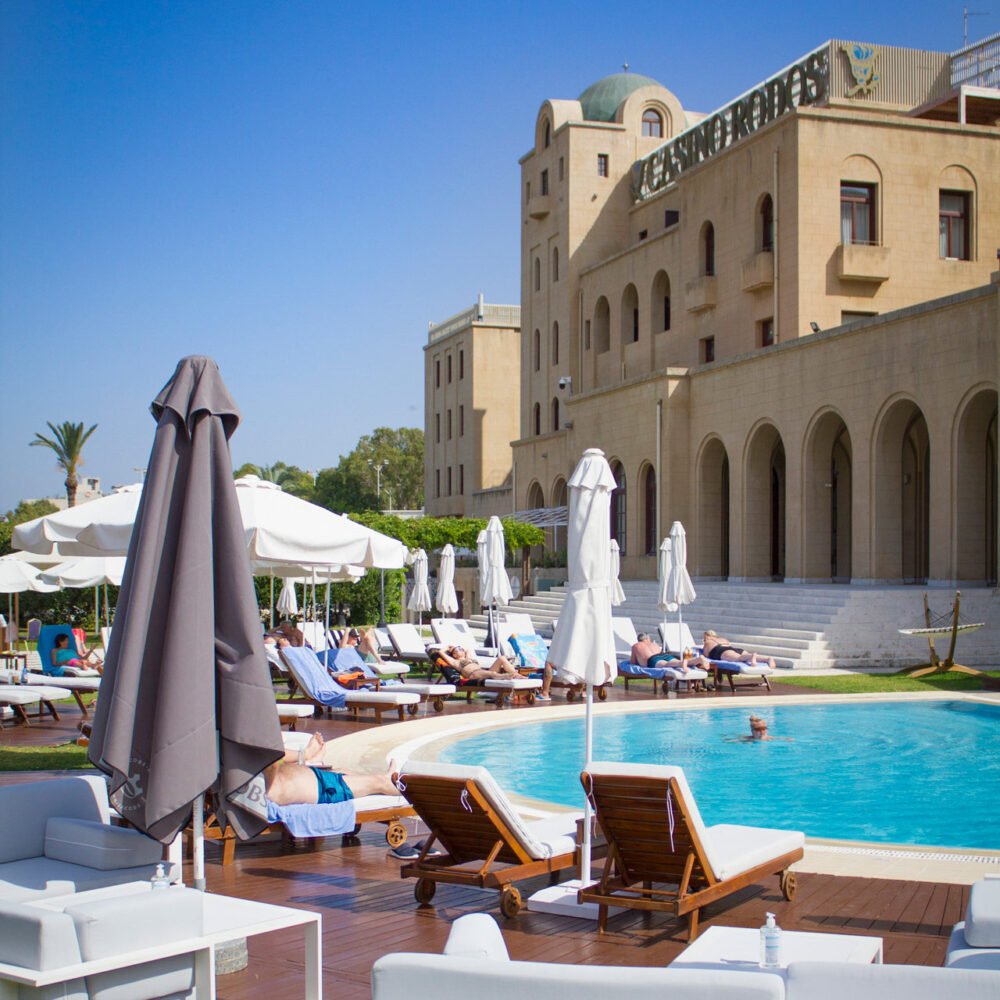 Website: https://www.gadr.gr/