Greece's coastline is dotted with a network of marinas that serve as essential hubs for sailors and yacht owners. These marinas are not only places to anchor, but also offer a range of services to meet the needs of the boater.
Strategically located to provide access to the country's fabled islands and seas, marinas in Greece combine practicality with the opportunity to explore the country's maritime heritage. Whether it's for safe docking or as a starting point for sailing the Aegean, these marinas are vital for both local and visiting yachtsmen in the Mediterranean.
New modern marinas, hotel ports and moorings for the safe docking of boats already operate or are in the process of starting their operation, in order to meet the needs of tourists coming to Greece by sea in the most satisfactory way and under the safest conditions.
Table of Contents
List of Marinas in Attica
Flisvos Marina
Designed with the superyacht fraternity in mind, Flisvos marina is the only marina in Greece to be awarded the prestigious 5 Gold Anchors for its high quality facilities and services. It offers 303 berths for yachts up to 70m and features a luxury precinct with shops, restaurants and yachting companies.
Athens Marina
This marina is one of the best in Athens and offers high-quality services to guests from all over the world. It can accommodate up to 130 yachts, with 10 berths for vessels ranging from 50m to 130m. The marina ensures safety with 24/7 surveillance and controlled entry and exit points.
Alimos Marina
Alimos Marina is the largest marina in Greece and the Balkans, with 1,064 berths and a maximum depth of 6.5m. It stands as one of the most historical and emblematic marinas in Greece, serving as a hub for sailing enthusiasts and yachting aficionados.
Astir Marina
Located in Vouliagmeni, a luxurious seaside suburb of Athens, Astir Marina offers a range of services including berthing for yachts, fueling, and maintenance and repair facilities. The surrounding area's luxury hotels and restaurants make this marina a prime location for those seeking an upscale boating experience.
Olympic Marine S.A.
Situated in Attica, east of Athens, Olympic Marine S.A. provides 680 mooring places for boats up to 40 meters, along with quality fuel and modern facilities. Just 20 minutes from Athens' international airport and 45 minutes from the city center, it offers comprehensive services, including boat management, storage, and repairs, making it a secure stopover in the Aegean.
Agios Kosmas Marina
In Glyfada, a high-end suburb of Athens, Agios Kosmas Marina offers services such as berthing, fueling, and maintenance. Its location is perfect for those looking to explore Athens and its vibrant coastal lifestyle.
Zea Marina, Piraeus
Zea Marina, on the east coast of the Piraiki Peninsula in Piraeus, is known for its extensive commercial services. It provides top-notch facilities including ATMs, free WiFi, laundry services, 24-hour surveillance, repair services, and convenient transportation options within the marina.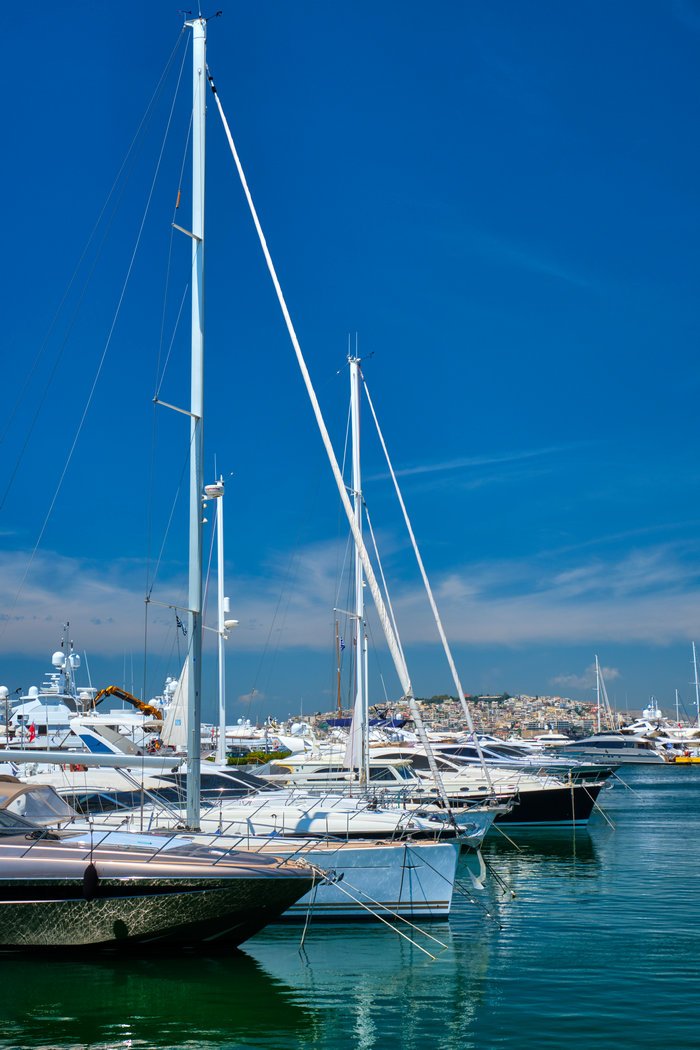 Marinas in Aegean Sea
Symi Marina
Located in Pedi, on the island of Symi, Symi Marina is dedicated to delivering top-notch services with exceptional efficiency and professionalism. It provides amenities such as beachfront apartments, restaurants, coffee shops, and essential services for yachts, including water tanks and electrical connections. The marina plays a significant role in the local economy and cultural landscape by enhancing a historic bay.
Leros Marina
Situated in Lakki Bay on Leros Island, Leros Marina was the first in the Southeast Aegean Greek waters. Nestled in the most protected part of Lakki Bay, it offers shelter from all winds. The marina spans 50,000 m² and includes modern berthing for up to 220 vessels, floating pontoons with mooring lines, electricity, water, and a fully equipped boatyard that can accommodate up to 600 boats.
Kos Marina
Centrally located on the island of Kos, just one mile southeast of the old port and 25 km from the international airport, Kos Marina features five piers with 265 berths equipped with mooring lines, water, electricity up to 400 amps, phone, and satellite TV. An extension at Mandraki Harbor adds another 80 berths to its capacity.
Mytilene Marina
Operating since 2010 on the southeastern coast of Lesvos Island, Mytilene Marina is near the town center and covers 37,750 m². It can berth 222 yachts up to 25 meters and has dry dock space for 32. Facilities include an ATM, car rental, parking, and an open theater.
Rhodes Marina
Rhodes Marina on Rhodes Island is a prime location that accommodates vessels of all sizes, including 120-meter yachts. Its elegant environment and architecture echo medieval Rhodes, offering visitors a chance to explore the island's numerous attractions.
Samos Marina
Samos Marina, located just 500 meters from the village of Pythagorion on Samos Island, has a capacity for 280 boats and can accommodate yachts up to 50 meters. It provides year-round boat maintenance and repair facilities.
Agios Nikolaos Marina
On the island of Crete, Agios Nikolaos Marina is set in the town's heart, offering easy access to the center. It is a favored spot for sailing cruisers, many of whom choose to spend the winter on their boats in this welcoming marina.
Marinas in Northern Greece
Thessaloniki Marina
Located in Thessaloniki, the second largest city in Greece, this marina offers a range of services including berths for yachts, fueling services, and maintenance and repair facilities. Thessaloniki is known for its vibrant culture and history, making the marina a great base for exploring the city.
Sani Marina
Sani Marina sits at the core of Sani Resort, a luxury hotel and villa complex on the Kassandra Peninsula. It can dock up to 215 yachts and provides high-quality services year-round. The marina is surrounded by a variety of restaurants and bars where visitors can savor international and Greek traditional cuisine. Additionally, a shopping piazza with 24 boutiques offers designer accessories, swimwear, clothing, and jewelry. Yacht charter services are available for those keen to venture into the Aegean Sea and its islands. The marina's location is a mere 80km from Thessaloniki International Airport, making it a convenient two-hour journey from major European cities.
Savvi Marina
Nestled in the traditional fishing village of Platamon, at the foot of Mount Olympus, Savvi Marina features four basins that can accommodate over 90 yachts along more than 500 meters of quays and piers. It's an ideal departure point for trips to Chalkidiki, the Sporades Islands, and the North Aegean Sea. The marina offers onshore parking and ensures safe transportation with certified crews and equipment. Each berth is equipped with electricity, water, and complimentary Wi-Fi. Fuel supply and waste disposal services are readily available, and fire stations are strategically placed at each pier.
Porto Carras Marina
As the largest private marina in Northern Greece, Porto Carras Marina is situated on the eastern side of the Sithonia peninsula in Chalkidiki. It can house up to 315 vessels and provides a suite of amenities including power, water, telephone, and data TV services. The marina is well-equipped with fuel stations, showers, laundry facilities, a dry dock, and offers boat maintenance and repair services.
Marinas in Peloponnese

Porto Heli Marina
Porto Heli Marina is situated in the town of Porto Heli on the eastern side of the Peloponnese. It is a favored spot for yachts and boats, thanks to its natural harbor that is well-protected and its close location to the islands of the Saronic Gulf, making it an ideal stopover for sailors exploring this part of Greece.
Kalamata Marina
Located adjacent to the city center and the main port, Kalamata Marina forms a seamless extension of the city of Kalamata. It boasts a stunning backdrop of the Taygetos mountain range. The marina can host up to 250 yachts, with a maximum length of 25 meters and a draught of up to 3 meters. Each berth is furnished with power and potable water supplies. Additionally, the marina provides dry dock services for around 150 boats and is equipped with a 60-ton travelift, ensuring smooth handling of vessels to and from the water.
Marinas in Ionian Sea
Gouvia Marina, Corfu
The first privately owned marina in Greece, Gouvia Marina is situated on the island of Corfu, about 6 kilometers from Corfu town and 7 kilometers from the international airport. It boasts a mooring capacity for 1,235 yachts on both permanent and floating pontoons, and dry-docking facilities for around 520 yachts. Vessels up to 80 meters in length with a draft of up to 5.5 meters can be accommodated here. The marina is well-equipped with commercial shops, vehicle and boat rental services, a variety of dining options, a harbor police office, fuel station, supermarket, and laundry facilities. Additionally, it provides technical boat services, including two travel lifts capable of 75 and 65 tons, and mobile cranes of 60 and 45 tons.
Lefkas Marina, Lefkada Island
Lefkas Marina on Lefkada Island is renowned for its state-of-the-art facilities, operating all year round. The marina is dedicated to delivering excellent service in a friendly setting, ensuring a pleasant stay for all guests.
Preveza Marina
Located on the Ionian Sea, Preveza Marina can host up to 300 vessels and offers a variety of amenities such as power and water supply, a fuel station, showers, laundry services, a dry docking area, and boat maintenance & repair facilities, catering to the needs of every sailor.
Cleopatra Marina
Cleopatra Marina is nestled on the historic Aktion peninsula, at the core of the Ionian Sea, merely 1.5 km from Aktion Airport and in close proximity to Preveza and Lefkada. It provides top-notch services and can moor 100 berths with vessels up to 30 meters. The marina's dry dock, the largest in Greece, spans 125,000m2 and offers comprehensive dry docking services for 1,000 vessels.
---
Marinas in Greece offer a range of services including mooring assistance, technical service, cleaning and laundry service, helipad, storage area, car parking, diving services, fuel station and more. They are situated in the main tourist destinations of Greece, and are considered high-caliber marinas due to their exceptional service and/or spectacular surroundings.
Useful pages: