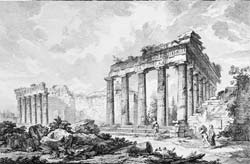 Culture ATHENS 2004, Great Travelers in Athens, 15th-19th cent.
Painting Exhibition at the Museum of the City of Athens, 5-7 Paparigopoulou St., (Klathmonos Sq.). March 17 until December 31, 2004. Admission free.
The most important travellers to Athens from the 15th to the 19th century and their famous "Itineraries" with their most wonderful etchings are displayed in this very interesting exhibition of the Museum of the City of Athens of the Vouros-Eutaxias Foundation in collaboration with the Organizing Committee of the Athens Olympic Games. The exhibition "Great Travelers in Athens, 15th-19th cent." makes part of the official cultural program of Athens 2004 and runs through the end of the year.
Among the items on display are some masterpieces of the kind, like the four volumes of the work of J. Stuart and N. Revett (1792), as well as the works by J.D. Le Roy (1758), Edward Dodwell, Hugh William Williams, William Cole, Du Moncel, A. Gasparini, and others.
It aims to show that travelers were those who "discovered" Athens and made it known to the rest of Europe, since even in the 16th century, Athens was believed that it did not exist by then (Martin Crusius, 1575).
Read more about the Athens Museum :
---